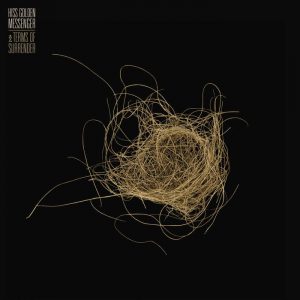 Listening to Hiss Golden Messenger is like going to church. You don't always hear what you want, but you hear what you need. Terms Of Surrender is no exception. This new collection of ten tunes comes after M. C. Taylor had a particularly bad year. Yet from out of the darkness and back into the light, Taylor emerges stronger if not necessarily more secure. The insecurity is spelled out on 'I Need A Teacher', "Another year older. Debt slightly deeper. Paycheck smaller. Goddamn, I need a teacher." The music churns, guitars rocking out like The Band, organ counterpunching to show there's still some fight left.
If there's a sense of wandering through the wilderness on this record it comes from the searching spirit of the music itself, written in motel rooms, Taylor's own Durham studio, and a secluded section of Charlottesville, Virginia. Narrowing the song selection from 40 to just ten, Taylor brought in regular collaborators Phil and Brad Cook, Josh Kaufman, and Matt McCaughan. Additionally Jenny Lewis and The National's Aaron Dessner joined the proceedings, recording at Dessner's Long Pond studio in upstate New York, LA, and Nashville to create an album that turns formulas on their ear.
Wearing his heart on his sleeve, Taylor shares his feelings and his fears, his concerns and his celebrations. He's searching for truth, but sometimes what he finds are moments that more real than he expected. Surprises abound on 'Happy Birthday, Baby', "Happy birthday baby. Go love your brother now. It's a strange gift, maybe girl you know me better – better than I know myself."
The truths that Hiss Golden Messenger espouses are not always the ones we want to hear, but they are most definitely the ones we need. On the title track that closes the album Taylor is singing truths that he really doesn't want to own. Over a bed of plaintive piano and softly strummed guitar he sings, "I'm gonna give it, but don't make me say it. It's one thing to bend it, my love, but another to break it."
Terms of Surrender closes with the sounds of a siren in the background. The alarms are going off and we have to be vigilant to survive. Yet even on the darkest nights there is still hope to be found in the people we love. These are the truths we are left with and they can be enough to get you through the dark night and into the dawning of another new day.