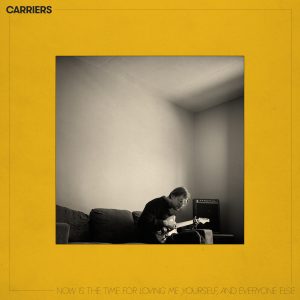 The gestation period for birds is 35 days, while elephants take almost two years! In the case of Carriers, Curt Kiser's Cincinnati-based band, the gestation period took five years. Yet along the way the band has become very well known, having shared stages with Big Thief and Damien Jurado. At last, Kiser's Carriers have released their debut album, Now Is the Time For Loving Me, Yourself, & Everyone Else.
One of the first tracks recorded, 'Patience' earned its name. Over the space of two years, working on the piece once a week at the studio of John Curley (The Afghan Whigs), the track took shape. Combining the drum sound of The National, thanks to drummer Bryan Devendorf, with a sonic pallet from The War On Drugs, the lyrics present something very different from the mainstream, "It's not always better on the other side/Assumptions consume our thoughts and dig through our minds." 
Over what may be the most straightforward track on the album, 'Heaven's People', Kiser suggests that being alone is not necessarily a bad thing. "The magic happens when the lights go down, all are sleep, no ones around, the chords I play, bring the new day…" There's a sense of perfection that comes from having everything just the way you want it. No one can interfere unless you let them.
Layers of acoustic and electric guitars border on a pop-angst soundtrack as Kiser's 'Daily Battle' unfolds. "It's a daily battle to walk and breathe," is the clearest indication of how tough life can be. "Every day something else is going on, sometimes it's good, most times it's wrong," sets the scene for a chorus that is in flux. Initially "it's a daily battle, it's a daily battle the spirit and the flesh they comfort me." Yet by the end, instead of they comfort me, suddenly, "they cry for you."
Carriers evokes reminders of Phosphorescent, no to mention The War On Drugs, especially the use of sustain, but in the final analysis Curt Kiser creates music that is uniquely his own. Each piece has been lovingly crafted to reflect a sense of where Kiser is at this moment. Five years in the making, Now Is The Time For Loving Me, Yourself, & Everyone Else is a primer on authentic living.