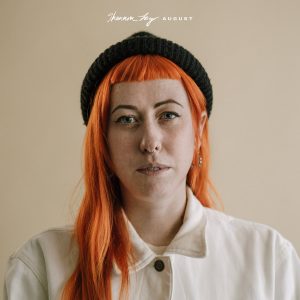 In August of 2017 Shannon Lay's life changed completely. She went from being a sometime musician to creating music full time when Kevin Morby asked her to open for him on an American tour. That life changing moment became the catalyst for new album, entitled August, immortalising her career shift. "Surrendering to the responsibility of making music full-time was such a powerful thing. I take it very seriously but at the same time, I'm having the most fun I've had in my entire life," she says. As a result, "It's a thank you to the universe."
The opening track, 'Death Up Close', strays a bit from her guitar-based formula weaving in ascending violins and saxophone, taking what would seem to be a straightforward folk track into previously unexplored territory. It asks listeners to find comfort in the fact that each of us is on our own individual journey, we all have issues to deal with.
'Nowhere' feels like a Nick Drake track, suggesting a simple quiet journey, no expectations, not doing anything, not meeting anyone, just being in the moment as she sings, " Soon we'll get to nowhere and we'll talk to no one and not meet them." With 'Shuffling Stoned' Lay takes a simple snapshot, watching a man working in a record store buy weed from his dealer while "this tiny little spider crawled up one the records."
The record was co-produced by Shannon's long time friend Ty Segall who created an environment where anything goes. "Once you get rolling with him, he just throws these ideas at the wall," Lay said. "I couldn't have hoped for a better guide and energy to help create this record." A perfect example would be the chorus of Shannon's at the end of 'Something On Your Mind'. The tangle of her voices singing "where I every even tried" is simply exquisite.
Shannon Lay has captured moments with the grace of a painter. Her lyrics shade the canvas in subtle ways, creating moments of clarity on her journey. The moments she displays are a gift to be savoured.