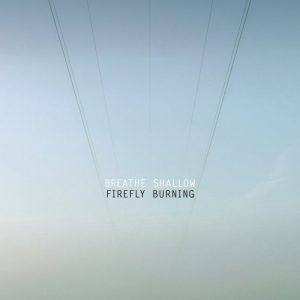 Take a deep breath, because Breathe Shallow by Firefly Burning is likely to take your breath away again and again. The staccato strings opening 'It Won't Be Long' immediately inform listeners this record defies expectations. Attempts at categorisation are ultimately going to be pointless, this is music that doesn't fit any particular genre from folk to prog, labels that have all been applied to Firefly Burning
James Redwood's violin and Sam Glazer's cello set up a classical agenda on 'It Won't Be Long' that the insistent guitar of Jack Ross immediately calls into question. When Bea Hankey sings, "I've been waiting all this time, but you're so far away," it's obvious this is one journey that will not go anywhere expected.
Firefly Burning are not so much a band as they are a group of alchemists, creating a sound pallet that goes far beyond the ordinary bounds to create an entirely new musical template. This, their third album, is the second produced by Tim Friese-Green (whose work with Talk Talk was relevatory). The music has an enchanting purity to it. Rather than manipulating sound, the band basks in the natural beauty of their instruments.
"Breathe shallow, hold your breath, I am suspended in this emptiness," Hankey sings on 'Breathe Shallow'. It's a moment that recalls the yearning music of Balmorea, with guitar and keyboard providing a counterpoint to the strings. Quite often one feels as if they are in a waking dream state, unsure where things will lead yet quite willing to follow the flow.
In a band where all five members sing, Bea Hankey stands out, at times soaring heavenly like a modern day Annie Haslam, even as the band pushes electronic edges on 'Take Me There'. Yet the final track, 'Lost', returns to a more simple, yet unrestrained musical pallet. "Each day I hold on, steady my heart so I can move on," Hankey sings while John Barber's piano sets the song and band on an ultimately hopeful path.
Citing musical influences from John Adams, Steve Reich, and Benjamin Britten to Joni Mitchell, Sufjan Stevens, and Portishead, Firefly Burning ultimately sound like no one else making music today. With Breathe Shallow they have charted a path that goes beyond their influences to create musical soundscapes for those willing to explore their hearts and souls.
[bandcamp width=100% height=120 album=4238531427 size=large bgcol=ffffff linkcol=0687f5 tracklist=false artwork=small]