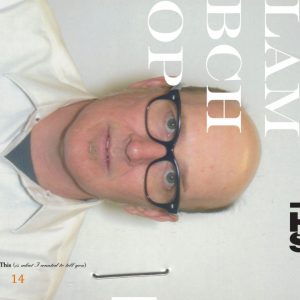 Kurt Wagner and his ever-shifting Nashville collective left alt.country purists on the hard shoulder years ago. Always influenced by Curtis Mayfield and other soul legends, Wagner and co have morphed into a brand new proposition in recent times – heralded by 2016's adventurous career-peak Flotus, which saw the frontman's heavily processed vocals partnered with flitty drum patterns and other electronic atmospherics.
This stylistic journey is further honed to great effect over the eight songs of This (Is What I Wanted To Tell You), officially the 14th Lambchop LP (they tell us they've skipped the unlucky-for-some no. 13).
Still largely based on the triumvirate of Wagner, bassist Matt Swanson and pianist Tony Crow, the album was made with Matt McCaughan (drummer with Bon Iver/Hiss Golden Messenger) after Wagner was drawn in by his analogue synth experimentation. The result is a more confident and coherent – if still measured – record than Flotus. Electronic beats are pushed even further into the foreground on songs like the gleeful 'Everything For You', with its sampled hip-house yelps and languid Fender Rhodes.
But there's also a tremendous sense of space which opens the door for Swanson and Crow to shine. The delights, which are many, include the juxtaposition of Wagner's treated singing: "I'm not playing/I'm not playing with you" with the most playful of Swanson's burbling basslines on 'Crosswords, Or What This Says About You.' Crow's jazzy piano is never far away for long, patiently waiting to colour in the gaps. Whether paired with ominous synth hums ('The Lasting Last Of You') or late-night brass stabs ('This Is What I Wanted To Tell You'), it's always a deep-reaching joy.
Wagner, 60 this year, has never been one to write in plain couplets but, amidst the glittering electronica and jazzy interludes, there's an inviting vulnerability to his lyrics. The narrative journey on 'The Air Is Heavy And I Should Be Listening To You' is a case in point; portentous images of Nixon and Vietnam lurk before the sky clears as Wagner sits "in a Mexican restaurant bar/Watching surfing and it's amazing…The light has changed."
This (Is What I Wanted To Tell You) demands careful attention. The pay-off is beautiful guitar-fingerpicked finale 'Flower', featuring Charlie McCoy's flyaway harmonica and Wagner imploring to be rehumanised: "Give me back my Christian name." It's a subtle and simple climax to an album that triumphs in both its warmth and complexity.
Words: Pete Bate
@petebate