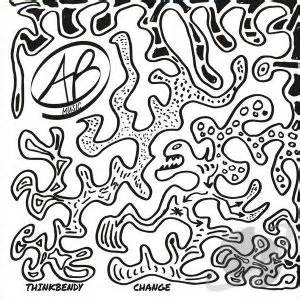 For a solid decade between 2003 and 2013, Adam Bendy toured and recorded with the New York quartet U-Melt, jamming amidst an ethereal blend of prog rock, funk, electronic, and jazz that eventually garnered the collective a national acclaim. Prior to his exploration into the realm of solo artistry, Bendy was known as a well-regarded bassist. Since then, he's adopted the moniker thinkbendy and has expanded his roots to embrace vocal and keyboard performance, as well. Taking a methodical approach to the development of his first thinkbendy LP, Change, Bendy's cerebral and instinctual brilliance alike shines brightly beside record contributors Robert Salzer (guitar), George Miller (drums), and Ann Mcinerney (flute).
With a focus on piano-driven melodies beside jazz-leaning synth and percussion, Bendy takes an avant garde approach to the formation of his new album straight-away with opener 'Sunrise'. Coming in at a cool near-couple of minutes, the aptly-named instrumental composition hits listeners with a dosage of optimism whilst establishing just how different thinkbendy is from his previous efforts. Yet, his delightfully off-kilter arrangement qualities do speak kindly to his greater experience as a bassist. Even as he approaches the album as a singer, there's an offbeat methodology to how Bendy slips and sidles into his arrangements that speaks to his years of knowledge developing a reputation as a rhythmic savant.
From the get-go, thinkbendy accomplishes its prime mission in selling its titular frontman as a fresh newcomer to the prime songwriting scene with an individualistic charm. Bendy's greatest gift is his personality, which bursts forth as clearly and warmly as the sun's rays from start to finish. There will never quite be another Adam Bendy in the world, and the instant identity he establishes here will carry him well into the future with his thinkbendy project, if he so chooses. Otherwise, indelible hooks, charismatic vocal performances, and altogether weirdly and wonderfully captivating musical arrangements make for a positive Change.
Words by: Jonathan Frahm (@jfrahm_)