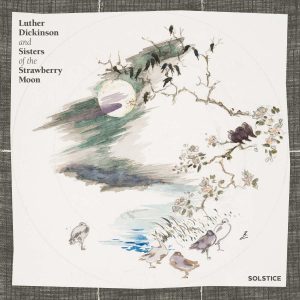 Under the light of the "Strawberry Moon" in 2016 (named for the time of year when the fruit is harvested), Luther Dickinson brought together a number of mostly female guests and recorded four days worth of music. The resulting collaboration is on display as Solstice by Luther Dickinson and the Sisters of the Strawberry Moon.
The question is how do you make a coherent record featuring such diverse talents as Amy Helm, Allison Russell and JT Nero (from Birds of Chicago), Amy LaVere, Sharde Thomas and the threesome of Ester Mae Wilbourn, Angelia Taylor and Delia Daniels from the Como Mamas? The answer: organically. As Dickinson relates, "The whole idea of this album was to introduce a bunch of friends and get them to collaborate with each other…It was sort of like throwing a party. Once you manage to get everybody together, you can just step back and let it all happen."
From the North Mississippi hill country, Dickinson recorded a sparse, acoustic album with the emphasis on vocals, yet there is still a fire burning. The combination of acoustic slide guitar and Sharde Thomas on vocals, fife, and drums makes 'Fly With Me' close to unbeatable. Inspirational as a hymn, 'Just Like A Songbird That Has Fallen' hangs on the lines, "As a song bird that has fallen, only to regain the sky, from this frozen shadow valley, make my spirit fly."
Amy LaVere's upright bass playing is especially tasty on her sultry version of 'The Night Is Still Young'. Moments of magic occur throughout this set, from the great clarinet and slide guitar call and response on 'Sing To Me' to Allison Russell's heartfelt take on living in the present tense, 'Til It's Gone', with it's chorus "God bless this beautiful morning until it's gone."
The biggest mystery is why Solstice took so long to be released. This music illustrates how little is needed to move body and soul. The set lives and breathes, and the Sisters of the Strawberry Moon deserve to be heard again and again.