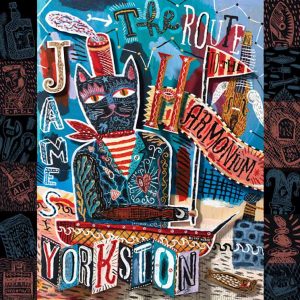 Living in the small fishing town of Cellardyke, Scotland, James Yorkston recorded his new album, The Route to the Harmonium, in his loft where fisherman had previously repaired their nets. Ultimately he recorded so much that he needed another set of ears to come in and help him put everything in shape. The call went out to David Wrench, an old collaborator, mixer and producer of folks like Four Tet, Frank Ocean, FKA Twiggs, and David Byrne. Together they crafted a set of music that figuratively covers the waterfront.
The first single from the album, 'My Mouth Ain't No Bible' gets right in your face thanks to a heavy snare drum track, some eerie electric guitar, and trumpet. One of three spoken word tracks on the disc, it's a strange choice for a single, yet it also shows how willing he is to challenge his audience. 'The Irish Wars of Independence' shifts back and forth between spoken word sections and sung choruses. He also uses the track to declare himself, "the pope of cool."
So many of these songs relate to family and friends, remembering the days and times, both good and bad. Yorkston makes his feelings clear when speaking about these songs. "When a friend jumps ship it's always a haymaker to the gut, you know," he said. "And this album is about them, but it's more about us, us who are left behind."
There are some stark contrasts on this album, like the free-jazz harmonium of 'Yorkston Athletic', or the airy, phased piano and trumpet of 'A Footnote to an Epitaph'. Throughout this set the trumpet carries the feeling of something off a Robert Wyatt record. There's a sense of sadness to the piano and bass of 'The Villages I Have Known My Entire Life'.
Yorkston travels ground that is unique, unlike that of most artists. The music is never less than compelling and oft times much more. Each successive listening reveals The Route to the Harmonium as a destination worthy of repeated visits.