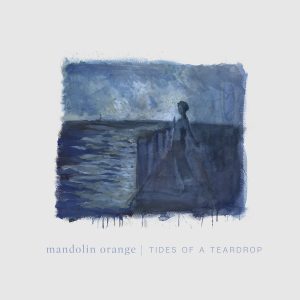 Sad without being mournful, there are ghosts at play on Tides of a Teardrop, Mandolin Orange's latest record. Andrew Marlin's mother died when he was just 18, yet her influence has been felt greatly over the years. Along with Emily Frantz, and members of their touring band, the two not only deal with the loss, but the continued influence and undying presence she has exerted over time.
Never maudlin, Tides of a Teardrop plays more like a series of love songs to her indelible spirit. Marlin's guitar opens 'Golden Embers', followed Frantz's minor-key fiddle, as the song gently remembers when, "that Cadillac came and gave our girl a ride." Using a pallet that incorporates the edges of bluegrass, country and folk, Mandolin Orange allows us to peer not into the void, but the spirit of a woman and the effect she still exerts.
The vocal interplay between Frantz and Marlin is exquisite. When Frantz takes over the vocals leads, as she does on 'Into The Sun', or 'Lonely All The Time', the band doesn't miss a step. There's a power to the gentleness of Mandolin Orange. These songs play on the heart. The band doesn't need to fill in all the gaps. In fact, the air that comes with those spaces make the album quite unique, not everything is stated directly. The Wolves examines how things are not always what they seem, "Everthing's so great can't get better, makes me wanna cry that I'll go out howling at the moon tonight."
The most straight forwardly country tune, 'Lonely All The Time' hangs on one of those exquisitely simple choruses, " I'm so tired of being lonely all the time," while the fiddle, guitar and mandolin gently twist and twang, especially when Marlin sings, "I'm so tired of waking up to old, cold coffee I made yesterday."
In the wrong hands Tides of a Teardrop could be maudlin and overwrought, instead it's almost hopeful, with Mandolin Orange living on the knowledge that at the end of the day they have learned to transform the pain and allow a mother's spirit to live on. Quite a gift, indeed.