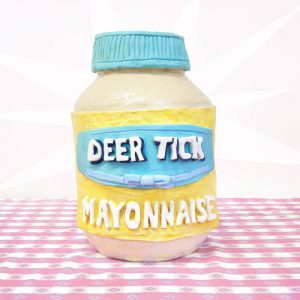 Deer Tick aren't just one band. Under the sobriquet Deervana, they've covered the music of Nirvana, and John McCauley served as a replacement Kurt Cobain (along with Joan Jett) during last October's Foo Fighters Cal Jam Nirvana show with Dave Grohl, Pat Smear, and Krist Novoselic. Yet at their heart, Deer Tick are a unit unto themselves, a group with the ability to play in a variety of tasty styles, as illustrated clearly on Mayonnaise.
A clearly complimenting condiment to the ketchup and mustard of Deer Tick Volumes 1 and 2, it presents alternate versions of several songs from the last two records, along with a variety of covers from artists one wouldn't necessarily associate with the Ticks. The version of 'White City' belts out at listeners, guitars ablaze with the heat and urgency associated with The Pogues. 'Run Of The Mill' is played fairly straight, immediately recognisable as a George Harrison tune. If there's a ringer in covers it's their version of Velvet Underground's 'Pale Blue Eyes' mostly because of the country-ish lilt.
Mayonnaise also slathers on different sheens to tunes from Deer Tick Volume 1 and 2. 'Limp Right Back' is mostly about shadings. Keyboards give 'End Of The World' a different, folkier feel, that ends up focusing more on McCauley's voice and lyrics. Perhaps the biggest shift is on 'Cocktail', where Spencer Cullum from Steelism plays pedal steel, replacing the original keyboard part from Volume 1.
Additionally, there are five new tracks written as McCauley says since they were going into the studio to record the covers they'd played on tour, "why not write a few new songs, record them, and give fans something new to round everything out?" Still, the tastiest selection may be their version of Ben Vaughn's 'Too Sensitive For This World'. There's a world of hurt packed in the opening lines, "Everyday starts with a broken heart, I must be too sensitive for this world."
It would be easy to see Mayonnaise as a holding action for Deer Tick, filler to keep the fans interested while they determine their next step. However, that approach seems too easy. This is a band interested in colours and tones, where their decisions on Volume 1 and 2 the right ones. That's a matter of taste, there's a lot to chew on. And isn't why you ask for Mayonnaise?