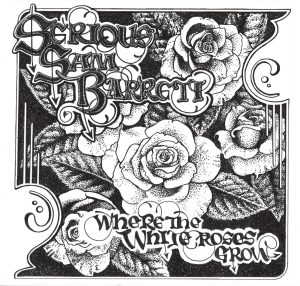 Citing Hull folk dynasty the Watersons as a primary influence, fellow Yorkshireman Serious Sam Barrett's traditionalist credentials are clear throughout a career now stretching to nine albums and a seemingly never-ending touring schedule.
This time around, he has branched out from guitar and his banjo-playing is to the fore on the album's first three songs – the opening title track, recalling memories of his childhood in the Dales, followed by a pair of songs inspired by the friends and love found while touring the Yorkshire pub circuit. 'Last Of The Yorkshire Outlaws' pays tribute to the colourful characters found in his audiences while 'I Don't Need to Wait For Heaven' is a beautiful song addressed to his great love. 'Bonaparte's Love Song' evolves from an intro drawn from the traditional song 'Bonaparte's Lament', with Barrett seeking to replicate the original fiddle using the banjo, into another sweet love song.
In between times, Barrett makes a first recorded foray into a cappella singing on a lovely rendition of the traditional 'Holmfirth Anthem', learned from the Watersons' 1966 recording. Barrett notes in the album's sleevenotes that "I've only recently gained the courage to sing unaccompanied at my gigs. I'm a firm believer that there's a purity in singing a capella that brings a special power to a song." He does so again after a gentle guitar intro on the album's beautiful closing track, the self-penned 'Darling Where You Are', adding: "I tried to arrange this song a million ways before realising it's best to just put down the guitar and sing it."
There are two more traditional ballads on the album, most enjoyably 'Robin Hood' and the 'Fifteen Foresters' – one of the 19th-century child ballads, a recording of which he listened to with his parents as a child. While that sees Barrett add his voice to historians' attempts to "reclaim" the famous outlaw for Yorkshire rather than Nottingham, the other marks a rare foray out of the Ridings as Barrett shares his love of the north-east with a rendition of 'Waters Of Tyne' – learned from a recording by Harrogate brothers Robin and BarryDransfield but recorded in recent years by Tyneside artists ranging from Kathryn Tickell to, er, Sting and Jimmy Nail.
Barrett has toured extensively in America with the Pine Hill Haints, whose fiddle player Jamie "Fang" Barrier plays on the album and whose presence has a hand in penultimate track 'Tennessee Line', while Barrett was commissioned specifically to write 'Bramhope Tunnel Monument' as a tribute to the 24 workers killed in the construction of the titular rail route.
Words: Tom White