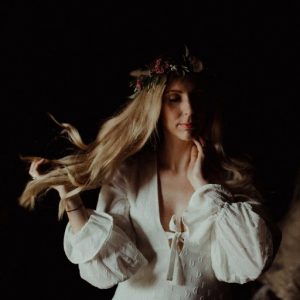 An almost twelve-year gap between albums one and two would be almost interminable for most people, but for Katie Doherty a lot of things just got in the way of And Then. She had a child, composed for Northern Stage Productions and became Managing Director for the Royal Shakespeare Company production of As You Like It. Becoming comfortable in the spotlight again also took awhile.
Playing with The Navigators, Shona Mooney on fiddle, and melodeon player and vocalist Dave Gray helped to re-energise her. "They are such instinctive players, it's easy to enjoy yourself and let the nerves go with them beside me," she said. Starting with 'I'll Go Out' Katie sings about the changes going on in a world quite different from the one of years ago, "I will drink tonight to remind my body how to feel, to remind my heart how to forget." There's a solemnity to the music, yet by the chorus things begin to lighten.
Shona Mooney's fiddle takes the fore on 'Heartbeat Ballroom'. Plucked and bowed, there's a romance to the instrument as Katie sings, "you take the lead, I'll always follow, everything has changed, but you still take me home." Some parts of romance never change. The instrumental, 'Polska', features more fiddle work from Mooney playing off the wordless vocals of Doherty. One of the less traditional songs, 'Angry Daughter' establishes the sound of protest one feels on both sides of the ocean, "And this is not war music, this not a fighting song, this is owed to resilience, stand up for what is wrong."
Parenthood changes people. Perception shifts. 'Tiny Little Fingers' looks at that new world with the sense of wonder amidst the shifting emotions little lives bring. And Then is filled to the brim with emotion. But this emotion is leavened with hope and joy, as well as pain and sorrow. In the hands of Katie Doherty and The Navigators such is the world in which we reside, living, dying and occasionally thriving. The choice to thrive is a conscious one, a radical choice in these uncertain times.