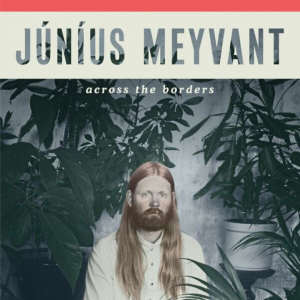 Iceland got soul and Junius Meyvant delivers it like a modern day Sam Cooke. On his self-produced second full-length record, Across The Borders, the soul gods have clearly smiled on him. Born Unnar Gisli Sigurmundsson, he lived on a volcanic archipelago off Iceland's southern coast with a population of under 4,000. Skateboarding and painting took up most of his time. In his early twenties he found a guitar in his parents' house and began creating the melodies. Eventually Junius Meyvant was born.
His understanding of soul is striking. Clearly delineated rhythms play with his sultry vocals amidst the soft wash of horns, synths, and mellotron, creating music that could have just as easily come out of Al Green's Memphis as Reykjavik. In 2015, Unnar won both Best Single and Newcomer of the Year at the Icelandic Music Awards, before ever releasing an album, no small feat.
The proof of what Sigurmundsson has created is in the grooves. He tears things up with 'High Alert', starting with drum machine and bass, as strings and guitar slink into this tale of heartbreak, "You got one desire, build me up to break me down, you shook my ass out of town…" In the best of the tradition, from rudimentary elements something bigger than the whole emerges. "Here I am still like stone, trying to get me moving on. I'm running all the time, you took my peace of mind."
Album closer 'Until The Last Minute' tears at the heartstrings, bringing a tear to the eye as Unnar sings, "wait a minute, have you lost your will, you must keep holding on until the last minute," strings building to a crescendo. What you're left with is a sense of how small the world has become. Not only is Icelandic soul a thing, in the hands of a purveyor like Junius Meyvant it is the rarest of all things, soul that reaches Across The Borders.