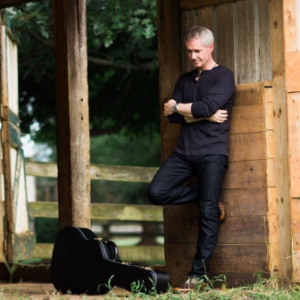 Despite contemporary Americana's foundation being settled in Chicagoan pubs, the movement encapsulating roots-amalgam still feels plenty connected to naturalism. New Jersey, then, might not be the first place one might find a rising star of the genre, but rural Farmingdale manages to harbor the musical muse of Dave Vargo. Recalling a songwriting space of mind on-par with the likes of Jackson Browne or Tom Petty, Vargo's textured, earthen take on Americana ruminates on the fledgling genre's early pioneers. Even with just the two-song 'Battle Burns' preview he has to offer us ahead of his incoming sophomore full-length, Vargo gives listeners plenty to feel grateful for as the holiday season comes in for what we're hoping to be a soft landing.
It's a blessing, then, that Vargo made the conscious decision to get back into the game. After touring with Whitney Houston in the late 80s, the veteran musician felt burnt out on the craft and veered into the realm of running his own financial planning agency. Yet, when Vargo returned home one day, he found his water heater ruptured and his collection of guitars ruined during a flood. Between that and an arthritis diagnosis, the singer-songwriter picked up an acoustic and re-committed himself to his art, knowing that his time playing might be more limited than it had ironically been during his stagnation.
On offer here, then, is a taste of what's to come of his rekindled passion. The titular 'Battle Burns' tops off the two-piece EP with a steady-moving arrangement that seems nearly self-reflective, culminating into a vibrant, guitar-centric bridge that evokes feelings of bittersweet nostalgia. Opener 'This Time Around', meanwhile, rocks a little faster, but with the same world-aware perception that Vargo establishes in his centerpiece. He's a straight-shooter; roots rock is what he does, period. They always say that if you're going to do one thing to do it well, and to that point, Vargo exceeds expectations.
Words by: Jonathan Frahm (@jfrahm_)