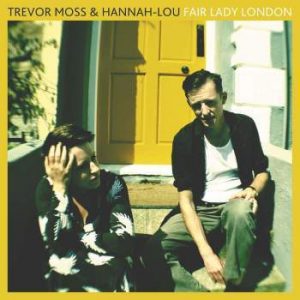 Trevor Moss and Hannah-Lou don't follow the rules. Their last album, 2015's Expatriot produced by Ethan Johns, found them in a real studio – an experience that wasn't exactly what Moss had in mind. "I like to limit the possibilities," he said. "4-tracks are more than enough. It forces you to push what you do to the limit, focusing on the songwriting and the performance." Which is why their latest album, Fair Lady London, was recorded on the aforementioned 4-track in an East Sussex castle.
The results of this effort to limit the possibilities and tighten the performances have paid off regally. Using little more than a couple of acoustic guitars and a stray keyboard or two throughout, vocals take to the fore. Something of a lament, 'We Should Have Gone Dancing' follows a man recalling all the missed possibilities in the last moments of a relationship.
Throughout the record they keep proving that less is more. 'Everything You Need' moves on a bouncy bed of one guitar and bass. That's all the song needs as the two sing, "It's time to grow up, but I've been a child since the day I was born." Hannah-Lou's soprano is featured on 'I Could Break You', where one-handed keyboard joins with guitar.
A tambourine provides the beat as guitar and bass are featured on 'The First or The Last'. "Look around you, everything is clear, we're on solid ground, well believe what you will," they sing, laying out the possibilities for where things are going in this modern world. Sung with joyous abandon, you can't help but feel positive despite evidence to the contrary.
Keeping things small seems to be paying off for Trevor Moss and Hannah-Lou. Having played venues from the Royal Albert Hall in London to The Ryman Auditorium in Nashville, they almost seem to prefer playing canal boats and village halls. Wherever they perform, music as good as Fair Lady London deserves to be heard.