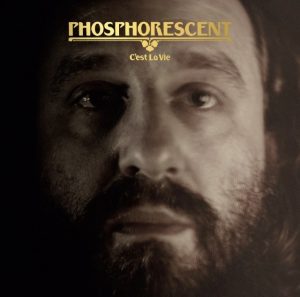 Five years can be a lifetime. Especially when you front a band like Phosphorescent. Yet for Matt Houck it went by in the blink of an eye. Along the way he got married, moved from New York to Nashville, had two kids, and built by hand the studio where C'est La Vie was recorded. Any one of those would be a huge undertaking, but doing them all seems monumental. And yet he can sum up so much of it with just one couplet from 'There From Here': "If you'd seen me last year I'd have said, 'I can't even see you there from here'."
C'est La Vie starts with two tracks Houck recorded by himself, 'Black Moon/Silver Waves', basically an instrumental with wordless vocalising and 'C'est La Vie No. 2'. The latter is a keyboard-based peon to the way things have changed, "I wrote all night like the fire of my words could burn a hole up to heaven/I don't write all night burning holes up to heaven no more." Having laid out those changes, the other members of Phosphorescent join in for the rest of the album.
Yet as Houck details, Phosphorescent is often requires a great deal of solitude. As he points out, "I love this band. They're my family at this point. But maybe in the way families are, you don't see them often unless there's a reason." Fortunately there are plenty of reasons, like 'Around The Horn', where the band rocks out with reckless abandon and scorching guitar for eight glorious minutes.
Domesticity is at the heart of 'My Beautiful Boy', a love song to both wife and son. 'These Rocks' on the other hand, sounds like a call for sober-living, yet Houck hasn't renounced the bottle. The song spilled out in one session as a first take and the results were deemed pure enough to live on their own. That's one of the keys to C'est La Vie. Matt Houck has learned to live with things as they are, life doesn't always call for a rewrite.
Closing with the band version of 'Black Moon/Silver Star' C'est La Vie comes full circle, ending where it began, but taking on new textures as if to end the journey one is required to follow the path, seeing how the experiences along the way have led to a new take on the material. One can't do it the same way twice. The same can be said for Phosphorescent. They have come to a new place with new rules, beautifully.