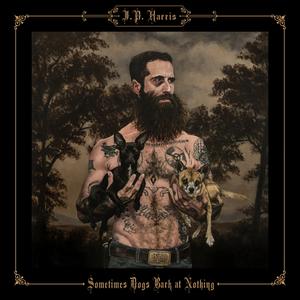 Joshua Pless Harris seems to be the essence of a Kris Kristofferson song: "walking contradiction, partly truth, partly fiction." Yet Harris has lived enough in 35 years for three men, leaving home at 14, hopping trains, working as a sheet metal scrapper, orchard worker, farmer labourer, heavy equipment operator, logger, historic restoration carpenter, and occasionally making albums of real country music. Sometimes Dogs Bark At Nothing is one of those from a man who knows exactly what he's talking about.
Produced by Morgan Jahnig, the standup bassist in Old Crow Medicine Show, there's an essential vibe to the music that comes from the instructions participants were given. Harris told them, "Take five days to think about these songs. Please write notes of whatever ideas come to mind. Please don't talk to each other about it. Let's all just get in the studio on day one and compare notes as we go." Clearly that approach paid off.
The album crackles with energy. Southern rock doesn't come any more spirited than on 'JP's Florida Blues', recounting Harris's escapades when it was "85 and snowing."
'When I Quit Drinking' takes a hard look at the not necessarily good old days when a bottle was his best friend, over a bed of acoustic and steel guitar. Revealingly it also details that problem alcoholics face: "When I quit drinking, I start thinking about starting up again." Clearly not the sort of song featured on today's country radio.
'Sometimes Dogs Bark At Nothing' questions why we do the insane things we do, especially when we already know exactly what we need. At its essence the song is simply an acoustic guitar, a slide guitar, and the truth. "Why did I go out looking for answers at the all night bars with the pole dancers, when the truth was waiting in a warm bed back at home?" These are lessons that have been learned the hard way, which is sometimes the only way.
This is country music in the tradition of Waylon and Willie and every other insane cowboy who insists on keep the music pure while singing the truth. JP Harris doesn't just sing these songs, he inhabits every one of them. That we are offered a peak inside the low lights, high life, and the man who inhabited both is a rare opportunity to witness his truth.