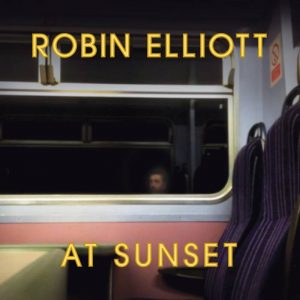 The stark finger-picked opening on Robin Elliott's new EP tells you everything you need to know about the record. Here is a bold yet stripped-back collection of songs from one of the purest songwriting talents in music today.
This is the follow-up to Elliott's 2015 record Green Ginger Wine, though in many ways it sounds like a fresh start. Unadorned with a band or backing singers, At Sunset presents bare bones Elliott. The effect is just marvellous.
Take title track and opener 'At Sunset', which sounds like an outtake from the Coen Brothers' wonderful Inside Llewyn Davis. Over a warm and slightly sprightly guitar melody, Elliott reflects on the nature of loneliness; what it means to suffer such acute isolation in unison with so many others. 'You might find at sunset that you cannot lay your heart to rest/But you'll never be alone in loneliness'.
Bringing deceptive lightness to melancholy messages is one of Elliott's core skills as a songwriter. The music, which could easily feel cool and distant, is instead easily relatable. 'Lean Times' is, at its heart, a song about daily suffering. A song about accepting that things won't be getting better any time soon. But a laudable mouth-trumpet and playful musicianship imbues the track with a gently rebellious accent.
The final two tracks of the EP (though there are three digital bonus tracks) hark back to the folk tradition. In particular, the beguiling 'Poor Murdered Woman' takes that old folk trope of the wronged (and yes, murdered) woman and pulls it softly into the age of 24 hour news channels. It's a remarkable song, and a perfect glimpse of Robin Elliott's greatest strengths as a writer – his clarity, and his honesty. It carries. At Sunset is the clearest, most honest record you'll hear this year.
Words: Stephen Rötzsch Thomas