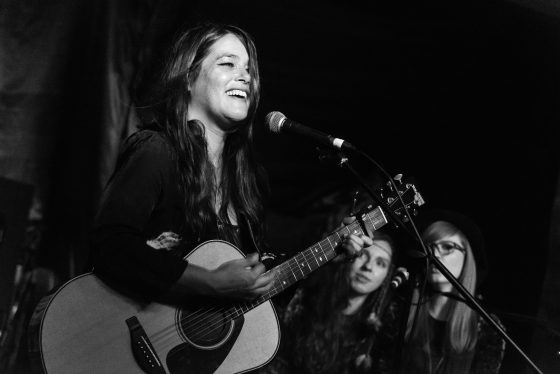 I first came across Rachael Yamagata a few years ago, through a Noisetrade sampler. I was into American girls with guitars at the time, so I downloaded. I listened. I deleted. "Vanilla," I thought – there was nothing there to catch my attention.
But I approached the gig on a rainy Sunday night in Islington with an open mind… I wanted to find out what made Rachael Yamagata's music unique. She's been making and releasing music for over a decade and is still going strong. She has a loyal fan base all over the world. I wanted to figure out why.
So I listened to her 15-song set, but I found myself thinking, "Oh, this one is very Sheryl Crow. That piano part is great, so Sara Bareilles. Her voice is very Fiona Apple here. And she has so much passion in this song, such raw energy… so Lissie!" As the set progressed, I started to get a little despondent… I couldn't really find anything about Yamagata's music that really stood out. It was all something that reminded me of somebody else. But as I watched her perform, and I watched the packed room respond to her performance, I started to realise that the unique thing about Rachael Yamagata's music is actually Rachael Yamagata. I wasn't terribly impressed with her songs, although she's an excellent multi-instrumentalist and an accomplished singer – I found the lyrics a bit staid, a bit worn. But I was impressed by her. She's a woman of experience, and of many experiences, and she puts those into her music. She means what she sings. And she cares about what she sings about. Perhaps this authenticity, coupled with a personable stage presence, is what has drawn her fans to her tonight, and to her previous sold-out show on Thursday night. And what I'd missed in those downloaded mp3s.
Opener Jake Morrell put in a solid stint to kick off the night. Verging on the Country side of folk (or the folk side of Country) he played songs in a range of styles from mellow to upbeat, including his biggest hit to date, 'Wire & Thorns'. This song, he disclosed, was his ticket to Glastonbury this year, and saw airtime on BBC Radio 2.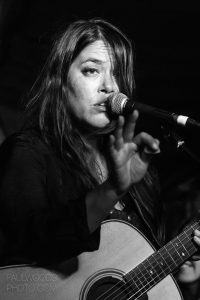 Yamagata played a selection of songs from her four albums, ranging from "straight-up pop" to melancholy Blues, flitting between piano and guitar while accomplice Michael Travis filled in the gaps with percussion and synths. New record Tightrope Walker did not get much of a run-out: 'Break Apart', 'Let Me Be Your Girl' and 'Nobody' got an airing, but the rest of the set was composed of classics from the back catalogue: 'Be Be Your Love', which featured in The Sisterhood of the Traveling Pants (a.k.a. "a movie about jeans"); 'Meet Me By The Water', a favourite for First Dances, apparently, despite it being about cheating on a partner; and 'Dealbreaker', which brought the room to a standstill with its sadness. 'Nobody' was the only song that particularly got my attention… a driving beat which grows in intensity until a final, breathy climax and a sweet guitar solo.
The encore started with 'Duet', which, appropriately, Yamagata performed with the help of a particularly enthusiastic member of the front row who had brought his guitar along to be signed. Then 'You Won't Let Me' from album three, Chesapeake. And finally, and somewhat uncertainly, an a cappella rendering of 'Elephants' from the album of the same name. I left with an understanding of why the fans came… Rachael Yamagata in person is a singular experience and has to be experienced at least once. But I think the jury's out on whether I'll be downloading any more mp3s any time soon.
Words & photos: Paul Woods (@paulwoodsphoto)