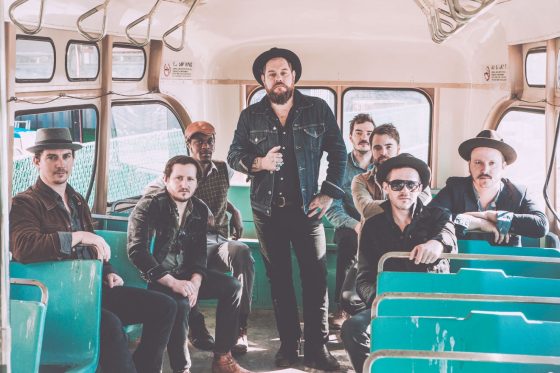 The last time I saw Nathaniel Rateliff it was February the 1st 2014, at the Louisiana. He was touring in support of what would turn out to be his final full length solo release (for now at least) Falling Faster Than You Can Run. I remember walking in the Bristol rain from my bus stop to the venue being so excited that I didn't care about how wet I was getting. The place was packed. I've been to the Louisiana a lot of times, and am still yet to see it like that again. I remember thinking how great it must be, as a performer to have that many fans in one place, especially if you're from the states.
But Rateliff never found quite the same audience as some of his contemporaries whilst working in the more folk-based market. He was revered, perhaps more than a lot of them, but never quite the household name. Fast forward to the 9th of March 2016, he's sold out Bristo''s O2 Academy. I do not get tickets. I am sad. But I'm also surprised. I knew that he was taking off in the states with a set of killer late-night appearances, but selling out the O2 in England? Damn.
And on Saturday night, Rateliff sold out one of Bristol's biggest venues, Colston Hall. The energy in the room was palpable as soon as we stepped in. The audience reminded me of when I saw James Vincent McMorrow a few years ago, a beautifully diverse mix. From the middle aged, to the lads, to the couples.
He opened his set with a slightly alternate version of 'I've Been Failing', before launching into my personal favourite 'I Need Never Get Old', both cuts from the brilliant debut album. What was incredible was that, even here, in Colston Hall, Rateliff's voice filled it, just like we were in the Louisiana again. To see this man sing live is to witness someone with a true gift. Effortless choruses and rapturous highs roaring from him with seemingly the lightest push.
Rateliff takes the occasional opportunity to wax poetic on the state of the world, quipping that "we'll just ignore what's going on in my country for now" and somehow remains not-too-cheesy as he tells us that standing together is what we really need right now. And after a few more tunes from the record, and a rendition of 'Boil & Fight' from his pre-Night Sweats days, he briefly muses on the passing of some musical legends this year, and how since so much magic has gone from the world, it's up to us to create new magic. He then plays a solo rendition of Leonard Cohen's 'Chelsea Hotel #2', and every heart in the room stops beating for three minutes. It may not have been 'new' magic per se, but magic it was.
He closes with 'S.O.B.', the impeccable single that rocketed him to where he is today, and the whole room is singing. It is euphoric. In that moment all generations were unified in the communal act of singing their asses off. And it was beautiful. As they walked off stage the audience continued to belt the wordless refrain, until they re-emerged, launched into a cover of The Band's 'The Shape I'm In' and finished it all off with 'What I Need' from their just-released EP.
I stepped out of Colston Hall, and it was pouring. And as I stood their in the Bristol rain again, I thought about how some things never change, but I'm glad they did for him.
Words: Ollie Lucas
Photo: Brantley Gutierrez