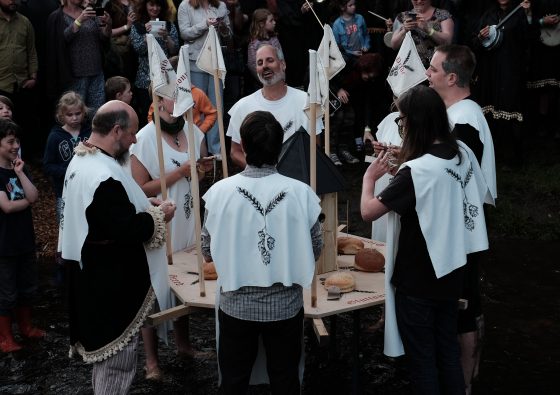 As you climb the alpine track of the Long Mynde with its dizzying falls and narrow necks and descend into the soft dripping vale where nestles the parish of Rattlinghope, time rests its feet in slumber and the days turn to the gentle light and soft colours of an attic box filled with childhood photographs. For in these Shropshire hills there is no mobile phone coverage or internet; the harrying swagger of the modern world holds no court here. Named for the last recorded Sineater (somebody charged to take the sins of the unrepented dead by eating of bread and beer passed across the body of the deceased), Richard Munslow who lived in Rattlinghope and is buried in the churchyard here, Sineater Festival is based around the Bridges pub which is nested at the junction of two happy chuckling brooks and is well served with local ales from the brewery at nearby Bishop's Castle. Created and lovingly administered by David Hands and Elizabeth Still of Somerset & Lancashire Records and formed initially around a core of musicians either associated with or friends of the label itself, the festival is now in its third (albeit inconsecutive) year and has expanded from the original garden marquee of the Bridges and extended across the river into the neighbouring field and into a magnificent striped circus tent which is reached via a footbridge or else forded in Wellingtons where the dogs cool their bellies and children paddle and drop stones and build dams. Offering a weekend of music which encompasses folk (both traditional and experimental), psych-rock, drone, experimental noise, John Fahey style guitar through to a string quartet and unexpected collaborations. There is much to admire here and despite (or perhaps because of) its small size the quality never seems to drop or ebb.
Friday afternoon begins gently in the Bridge's garden marquee with Toby Hay and Jim Ghedi's beautiful instrumental guitar whilst over in the circus tent the evening gives us the modern folk tales of Stick In The Wheel who give way in turn to the two bass doom-brutalism of Bodies on Everest.  Although Horseloom is billed for the garden marquee on Friday evening, Steven Malley is sadly unable to make it, stepping in as a last minute replacement Sweet Williams front man Thomas House plays instead a set of warm, fragile guitar-tone beauty and soft-phrased vocals. Friday is crowned with the genius of Ex Easter Island Head, the expansive Stewart Lee championed experimental noise project of Benjamin Duvall who even in this stripped back form (Tonight Duvall is performing a rare solo set) manages to coax wondrous, other-worldly sound from a misfit army of seconded instruments and homemade devices prepared with all manner of sellotape and tin opener amendments. With dulcimer hammers and timpani sticks he gently tickles and persuades his charges to hum and chime in ever growing accord, running from one device to another like a scientist plate spinner and though tonight misses a little the power and scale of the enormous guitar drone with which he filled these hills the last time around, this performance offers an altogether more introspective beauty.
After a tent pattering early shower, on Saturday the weather holds, beating the summer slopes with a mugging warmth. At lunchtime in the Bridges marquee, Enablers Front man Pete Simonelli performs his written pieces to the meandering soundscapes of Lisa Lavery's warm wandering bass. This is the first of a trio of appearances by Pete at this year's festival, the second of which comes almost immediately as an unexpected walk-on at the end of McWatt's set. Mcwatt, who are as beautiful as ever, fuse the subtle interplay of Sarah McWatt's minimalist accordion and pastoral flute with Seth Bennett's ever soulful double bass bow and pluck. They produce a sound that laps and binds in your chest like the pleasure of sand ebbing between your toes as you stand barefoot in a warm surf.
In the Circus tent in the early afternoon, Cath and Phil Tyler play on a stage entirely bare save for his consummate guitar and banjo playing and her raw, tender-braised singing. I have seen Cath play in various forms from solo and unaccompanied through to Steven Malley's folk 'supergroup' Dark Northumbrian and always the strength and honesty of her voice shines through like a shaft of sunlight reaching through the prison bars. The two of them here play an intimate selection of American folk songs including one number borrowed from the sacred Harp canon – a branch of American folk music with its roots in a vernacular British church tradition. On the Sunday morning, Cath and Phil take a sacred Heart workshop in the pub (now something of a Sineater custom). In Sacred Harp singing, also known as Shape Note Singing on account of the simplified notation which the singers follow, the group is split into four stations – bass, treble, tenor and alto and each station sings a separate part. It's a powerful and beguiling sound to be amongst and if ever you get the chance to take part I recommend that you take it, especially if you are shy of singing in public because it's a great way to find your confidence and you may well be surprised at how quickly you pick it up.
Hey Collossus shake the gentle calm of the afternoon in a storm of interlocking guitars and grinding grooves. This is guitarist Jon Richards last show with H.C. and what a bow out it proves to be; this is the best I've seen them and the sound, which it should be said has been excellent for the whole weekend, is perfect, enabling every nuance of the intricate layers of the four guitars to be audible. Great stuff.
When you get to the festival you are given a card and invited to write upon it a 'sin' and post it into a sort of ballot box and on the Saturday evening a ceremony is enacted and the box burned. Previously there has been a giant (sacrifice free)  Wicca man but this year there is a sort of table which is placed in the stream by a group of Tibetan-hatted, besmocked figures (some of whom may well be familiar if you've been paying attention to the musicians thus far). Accompanied by a chanted song and drumming from the Dead Rat Orchestra the sin box burns and another year is marked. It may just be a bit of Midsummer's fun but there's something strangely satisfying about the whole affair…
In the early evening you can take a bottle of wine up on to the hill and watch buzzards soar in broad winding circles whilst the long light of a midsummer's day drifts into the electric magic of a strawberry moon and the sonorous om of guitar drones fills the valley like love fills a chest and the caldera formed by the banking hills holds the sound so well that you can catch every note played on the stage below. Being here you become aware that this need of ours to fill the outside world with music is something as old as humans; the urge not just to scream out against but to chime with the landscape didn't even nearly begin with flower power gatherings or prog-rock cider fests but with the plains and caves of our most distant ancestors.
Late in the evening, after Trembling Bells storm encores on the big top, across the river a small assemblage of musicians including Chris Joynes and the Dead Rat Orchestra perform a beautiful live soundtrack to Ian Nesbit's film Sketches of Brunei c. 1978. It's a Delicate and captivating thing altogether and infused with the scent of the meadow and the bucolic tumble of the midnight brook. The walk back to the campsite is through the soft silver wonderland of moonlight and muted sheep bleats.
On Sunday, after a promising start, the late morning brings rain which promises to let up but in truth, never does. By lunchtime the streams have swollen, the mud is pooling and the dogs are forlornly dripping. Today the music is confined to the big top. Experimental guitar adventurer, Chris Joynes combines John Hurt style picking with drones, Scotty Moore riffs, African rhythms and innovative screwdriver insertions. Here he is partnered with the axe-wielding, chopping-board miking experimental folk pioneers, The Dead Rat Orchestra and together they field a set of pieces gathered from far and wide (from all over the world in fact). Wonderful.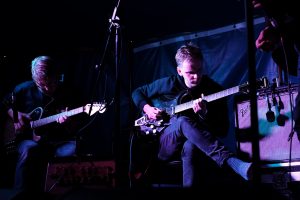 Next up is festival organiser's Dave and Liz's band Haress, normally a two piece who play elegant, stripped back guitar riffs and picked drones which interweave and counterpoint in a sublime fashion, today they are joined by Kogumaza guitarist Chris Sumlin and, completing his hat trick of performances, Pete Simonelli, whose conversational drawl surfs the rolling tops of the valve-glow swell with a hard-bitten whimsy.
The appearance of Seth Bennett's En Bas Quartet is made all the more glorious for being performed by all four members entirely in Wellington boots. Seth has appeared with so many wonderful acts over the years. As well as many jazz, nu jazz and experimental classical projects (and a long stint playing trombone with the Swiss band Orchestre Tout Puissant Marcel Duchamp) the distinctive sound of his double bass has brought its deep warmth to the music of McWatt, Mary Hampton's Cotillion and Dark Northumbrian. This is a deep quartet, meaning that the Double Bass plays the bass parts (normally it would be the cello) and there is no violin, but two violas and the cello of fellow Cotillion Alice Eldritch (also of Collectress). A piece in four movements, En Bas Quartet is part improvised, part written and enables Bennett to explore the parallels between composing chamber music and working with a small jazz ensemble. Influenced by British folk music and early 20th century composers the music has the feel of Butterworth, Britten and Vaughan-Williams which works brilliantly well in this rural setting; something which manages to instil it with an extra layer of poignancy. In fact watching this beautiful quartet rise above the mud-bullied grass in a setting like this is somewhat of a unique wonder – like watching Civilisation rise above the Primordial ooze or perhaps how the first Roman Baths may have appeared to an Iron-Age Britain.
Sweet Williams take to the stage in the late afternoon and as the tent fills they pound the damp sods of this Shropshire field with angular power and unpredictable rhythms (try grooving to S. Williams and you're bound to be caught out at least once… maybe even twice). Through slow burn lurches and head swing foxtrots  they hit you with well timed sucker punches and synchronised jabs but don't let my boxing talk deceive you because this is in no way a band which bludgeons its audience – these guys are Bruce Lee not Mike Tyson. By the end of the day the rain has turned torrential but nobody seems to be complaining much.
You could, if you were so inclined, attach labels such as 'boutique' and 'artisan' to Sineater but to do so would be missing the point entirely because this is an experience blissfully free of marketing and catch words. The only 'branding' is David Hands own inspired graphic design. There is no corporate sponsorship, no laminates or lanyards, no VIPs or fenced off areas. The food is of limited choice but it's cheap and good and local. The bars are all of the pub with local ales (some brewed specially for the festival) and the prices are the same as they are any other day of the year, The merchandise (save for the beautiful festival t-shirts produced by David) is all of the bands and they take all the money from it. I imagine how you feel about such things will greatly influence how you feel about the festival in general – music aside. Far be it for me to tell you what is right and what is wrong but if you are looking for a festival that really is all about the music and has the genuine feel of stepping back to the Nick Drake sunlight of 1973 then this truly is the place for you.
Words: Jon Griffin
Pictures: Cary Creed