Sturgill Simpson is on fire on his new record. This 9 track 40-minute record is brimming with confidence,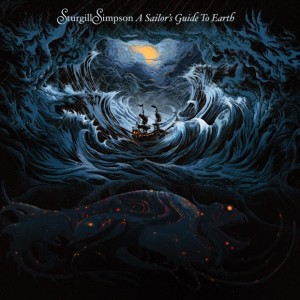 with joy and with a funky country groove that is hard to believe at times. It's like one giant party for the most part. It has gigantic blasts of brass, it has steel pedals, and a voice filled with immense passion for life, the songs and the genre. Transcending genres, Simpson explores a broad terrain of musical sounds and styles, from rock to jazz, from folk to blues. This is cinematic, a musical epic somehow compressed into a modern album.
A Sailor's Guide to Earth is one of those records that is the perfect way into an artist's world. It is difficult not to find something to enjoy here. There's no denying that this is a special 40 minutes that bears reward upon repeat listens. Simpson has made one of the records of the year. From opener 'Welcome to Earth (Pollywog)' the surprises come thick and fast. As just after the halfway mark of the track he turns the song on its head and goes in a totally different and unexpected direction. It's unbelievably good.
The songs flow into one another. The album is alive. Simpson has seen to that, along with many musicians that clearly love the format.
An unexpected cover of Nirvana's 'In Bloom' shows that he can do anything on this record. He breathes a totally new vibe into this track, now a quarter of a century old. It's a key moment, because it's the rebirth of a classic track, done up in a totally different guise and yet again it's a classic in its new body. As the track expands and explodes near the end with all the brass and backing voices of earlier tracks Simpson has made it his own. Compelling doesn't even begin to describe what is happening over the course of this record.
The energy across the record depicts a man inspired, the way the songs link up shows a cohesion, the concept of the album valued and executed to near perfection. It's undoubtedly one of the finest records of a year with some great releases already out there. If people didn't know Simpson before this treat, then it's hard to believe he can escape their attention much longer. A thoroughly wonderful record that deserves all the praise it receives.