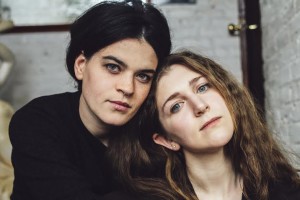 Hana Elion and JJ Mitchell met in college, played together in various bands, and eventually decided to write and record songs together. The result was the folk duo Overcoats, one of the buzziest acts at this past South by Southwest Music Festival in Austin, Texas, whose disarming harmonies and sharp lyrics could knock you off kilter. Elion and Mitchell play off each other stylistically, a sort of musical yin/yang that translates in both sound and performance. After playing a few shows in Austin, they went back home to New York City to write a little bit, live a little bit, perform a few more shows, and plan for the next steps for more touring and recording a new album.
How has NYC been treating you lately?
JJ: NYC has been great. We've been here since November, and it's an amazing city to be doing music in.
Hana: We go see really great artists all the time. [We] recently we saw Esmé Patterson at the Mercury lounge [and] she was stunning. And there are so many great venues here to play at [such as] C'mon Everybody, Mercury Lounge, and Shea Stadium.
JJ: We might be needing a break from the hectic nature of it soon though! We joke that all we ever do is "go to coffee" with people or "go to dinners." It's easy to get wrapped up in the hustle and bustle of NY. There's a certain pattern of socializing in this city that can get tiring. So I think a little escape is in the cards for us soon. [Maybe] northern Massachusetts; [maybe] Sante Fe, New Mexico.
https://www.youtube.com/watch?v=SPnQOb0cFKw
How was your SXSW experience last month? Who were your favorite acts?
JJ: Oh gosh, SXSW was incredible. We fell in love with Austin. We were so overwhelmed by the sheer number of bands playing. We managed to catch a few favorites: Margaret Glaspy, Honne, Empress Of, Låpsley, and Jamie XX. In a tragic long line situation, we didn't make it into Sun Kil Moon, but maybe next year. We discovered a few new great bands and artists like Flor and Julien Baker.
We just loved the anonymity of every festival-goer — not that we were worried that anyone would recognize us in the street — but we loved seeing other musicians in the crowds at shows we were at. It was a level playing field. We met some of our favorite musicians at bars, which was surreal.
Hana: SXSW was a little manic, but we loved playing so many shows and getting to engage with different kinds of crowds at each venue. It definitely made us step it up as musicians. It was all just crazy and fun.
JJ: Hana's parents came to Austin and came to the Jamie XX DJ set. They loved it.
I saw you two at St. David's Historic Sanctuary at SXSW. I thought your music played perfectly in that enormous space. Have you ever played in a church before? And how did it feel performing in such a solemn place knowing everyone was simply focused on you and your music?
JJ: It was honestly such an honor to play in that space. There was just amazing sound, I watched people in the audience close their eyes and really just like have a totally immersive experience in the music.
Hana: You can't always experience that in the kinds of venues we play around NY. But sitting in a silent church, you can hear every word of every lyric. It was really special.
Bob Boilen of NPR raved about Overcoats during and after SXSW. What was your initial reaction to the praise from him, other critics, and the audiences in Austin? I think it was nothing but glowingly positive.
Hana: It is very exciting to be receiving praise from folks like Bob Boilen. We've only been a band for a year so to be getting their attention is an honor.
JJ: People have been really receptive to the EP and to our latest single and that just makes us want to write more. The greatest feeling is when strangers reach out and tell us that they connect with what we are singing. Whether it's Bob Boilen or a random person from Oakland writing to us on Instagram, the fact that people feel something when they hear what we are writing is very rewarding.
You mentioned then that you bounce around between folk and electronic because those genres are what you're currently into. What goes into your writing and recording process that determines the rhythm, beats, and flow to your songs?
Hana: Songs start in many different ways for us. When we first started writing together, we'd start from a melody or a guitar part, and then expand from there. Most of our songs start from a really organic folk place, and then we add the electronics. The lyrics and melody for our newest single "Nighttime Hunger" were originally written to guitar.
JJ: Then when we got in the studio with it, we brainstormed percussion by just banging on anything we could find in the alleyway beside the studio. TVs, bottles, watering cans, you name it — we just recorded 10 or 12 percussion parts on random objects. Those parts ended up staying in the song, and we just layered electronic drum parts over them.
JJ described in a previous interview that your "music was vulnerable." However, when listening to your music and watching you perform live there is this aura of confidence. Please explain your process and what contributes to this natural connective sound.
Hana: Yes, the music is very vulnerable. Our mantra about lyrics is try to say the things that people think but don't say out loud. We sing about hard things, personal things — it can be difficult to stand in front of a crowd and sing your deepest darkest secrets, basically. But there's this crazy thing that happens that DOES translate to confidence. That's where the magic in Overcoats lies for us, actually.
JJ: You've hit the nail on the head.
Hana: There is strength in being vulnerable together. So much of our hurt and anxieties in this world stems from knowing that deep down, we are alone. But singing these things together and empathizing with each other give us the strength and confidence to sing these things out.
You two moved to Ireland for a bit after college. How did living there shape your music? Were there any other destinations on the list?
JJ: Dublin was such an amazing experience. It was really special to go somewhere where we didn't know a single person. Coming from Wesleyan University, we were used to knowing every person in the room, which is a very different experience. It was cool to be anonymous because it made us ask ourselves who we were and what kind of artists we wanted to be.
Hana: Yeah, I definitely agree with that. It was really cool to build ourselves from the ground up. We also spent a lot of time in London, which was really cool as well. We got to play some amazing shows.
I live in California. When can people on the west coast expect to see you?
Hana: Soon!
JJ: We're coming. It's too cold here.
Pressed something more concrete, Hana and JJ mentioned they were thinking about performing some west coast stateside shows possibly later this spring. They also couldn't mention anything related to their upcoming full-length debut album, except to say they're working on it.
The Overcoats' self-titled EP is out now.
Words: Tan Man
Photo courtesy of Overcoats