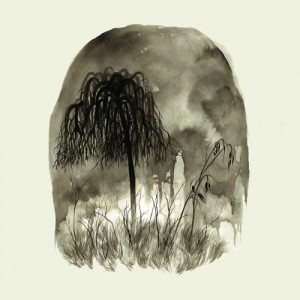 T R O U B L E, the latest bedroom-folk-rock release from long-standing Canadian folk icon, Woodpigeon, sounds as worldly and experienced as its creator Mark Andrew Hamilton. With aural references to Scotland and South America and the Middle East, this experimental sound offers a fresh take on Woodpigeon's typical indie-lyrical work. Hamilton accounts for this shift on the opening track of the album 'Fence', as he sings "don't fence me in." Freedom is the theme of this album – equal parts a take on Hamilton's own musical history and his personal heartbreak. It feels cathartic throughout and the journey is incredible, as one would expect from the always purposeful and expressive Woodpigeon.
T R O U B L E reads like a lucid dreamscape – you sense little lines and riffs and progressions that don't quite form a pattern, especially noticeable on 'The Falling Tide'. There are seemingly inconsistent percussive sentences punctuated with odd horn arrangements that seem to be playing somewhere far off. This creates an incredibly engaging, almost jazz-borrowed, effect.
'Devastating' is like some dark surf-rock from a Berlin nightclub. The percussion is a bit steampunk, but Hamilton sings so gently and beautifully, that even words like "guts" come across melodic and sweet. The syncopation of the word "devastating" (sung as dev – a – stat – ing) is the perfect effect to recapture the listener from the more dark and dreamy sections of the song.
Hands down, the standout track of the album is 'Faithful'. This is track can only be called devastatingly gorgeous. It is the rawest song on the album,and Hamilton's vocals are at their peak to match. Hamilton's tenor is at a honey-like quality, with haunting ooh's and ahh's, intense piano chords overtop of a slightly psychedelic guitar. In the emotional vocals, you can catch alternating glimpses of self-loathing, isolation, frustration, and outright depression. Featuring the repeated line "don't be faithful when you're not," followed by the empathetic "it all goes spiteful / it all goes wrong / no one's fault," this is one of the most honest songs I've heard in years.
The extra details top off this exceptional album, from subtle tambourine rattles, the creative percussion throughout, the horns, and the moments of hopeful vocals. It seems as though Hamilton was completely uninhibited and this has allowed him to give us his most creative and comprehensive work yet.
Words: Haley Velletri