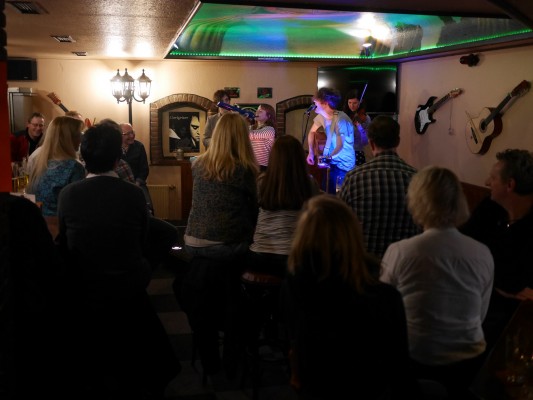 This week on tour, lots of great things happened. In fact, the whole thing has improved by about 100%… First, I was joined by more members of our band. Lynn Roberts showed up to sing some harmonies, and Amy Smith took a train through Europe to show Germany her mad violin skills. Never underestimate how much you need people to share a good gig with, or support you after a bad one… It has improved the whole tour experience so much.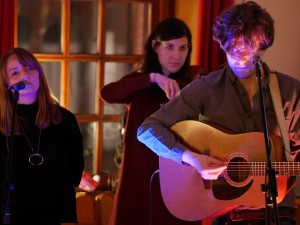 The other great thing that happened was my birthday. Well, it was okay. Actually, it sucked. The show we played on the day may be the worst show I've ever played. We arrived at an Irish bar called 'Pub Mambo No. 1' in Rostock (which was a three and a half hour drive), and it was FULL of British sailors, and at 5pm in the afternoon, they were already off their faces. We discovered they had all come off the same boat that day and found their nearest Irish pub to watch the rugby, and NOT to hear an alt/folk band from London. Surprisingly.
Luckily for us, we got to stay in Rostock that night at a local hostel, and the owner was a proper legend. He gave us a tour of the place which he was refurbishing and renaming 'Blue Doors', which was supposed to be a joke, as they were planning on not painting any of the doors blue… German humour? We spent the whole evening around a bonfire playing 'Wonderwall' by Oasis, they really love that song. I was so pleased to have found a nice place to have my birthday after such a terrible gig… And in the morning, with fuzzy heads, we visited the second largest beach in Europe (or so we were told) and the lighthouse which was featured in the film Shutter Island. A bracing walk on a beautiful beach was the perfect cure for our hangovers.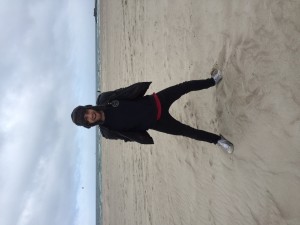 A few days later, we went to Oldenberg, and before the show we managed to play on the local radio station Oldenberg Eins. The host was more nervous than we were, as I don't think he was used to having to speak in English – but we did our best to make it not awkward (though I'm not sure we pulled it off). Afterwards, we took a walk around Oldenberg before our show, and quickly found the only thing to do – have tea and cake. Kudos to them though, the cake was incredible. Our gig at Litfaß Oldenburg was really cool, and the audience was lovely (including a few fans that came over from London – thank you Mike and Gail!)
Another noteworthy show was in Osnabrück at 'The Big Buttinsky', or 'The Big Butt in the Sky' (which is the literal translation, I think). Our drummer, Patrick is from Osnabrück, so the whole place was full of his old pals, or people that looked a bit like him – so it ended up being one of the best shows of the tour. We were even asked to play there again two nights later, which was really nice…
The drive home from Osnabrück took a dark turn when we were stopped by the motherflippin' police. It was a routine stop of a foreign car, and they went through all of our stuff looking for weapons, drugs and god knows what else. They didn't find anything though, because as has already been established by this blog, we're all massive squares. It was super scary though, thank god Patrick was in the car and knew what was happening.
We've now only got three gigs left of the whole tour. I can't wait to come home, yet, I'll miss this strange touring life of waking up at 3pm in the afternoon and staying up till 5am… Not sure how I'll cope going back to the normal routine…
Show photos by Mike Watts.