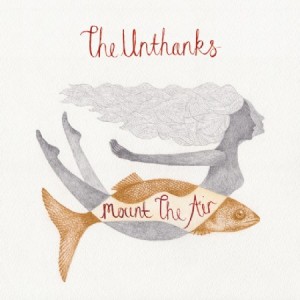 The Unthanks' latest album is filled to the brim with the epic, the grandiose, and the fairytale-­esque. The finest moments of Mount The Air are perfect slices of modern folk, always with a nod to some of the genre's greatest ancestors. The success of this record is captured in the 11-­minute 'Foundling', an otherworldly tale of years gone by. It feels like a world long departed, sadly passed, remembered with fondness and pristine nostalgia. The beauty of the music means it never outstays its welcome, every minute is precious. It may be long, but these extended songs demonstrate the exquisite execution of ideas over this record.
The title track opens the album with a couple of classical flourishes and a touch of jazz before the vocals bring in the folk flavours we've come to expect. After picking up ideas from a number of collaborations in recent times, the Unthanks now bring us far more than just the one genre. As the song reaches its climax, it gives a genuine sensation of flight – it's a huge achievement and a very brave way to start an album.
The sweeping vision of the record does nothing to prevent it being highly listenable and accessible. Perhaps it isn't a record to win any new fans, but it does show a band who are now fully able to realise their ambitions, creating a cohesive but fascinatingly balanced record. 'Last Lullaby' is a re­working of The Beatles' 'Golden Slumbers', but is so different it takes a moment for that fact to register. The lyrics are familiar, but the music is cut from very different cloth. It feels like an original offering – high praise for anyone tackling the Beatles' back catalogue. 'For Dad' is a lovely, personal song, both bleak and beautiful and a lovely indication that the band remains honest and wear their hearts on their sleeves. 'The Poor Stranger' is an incredibly sweet lullaby with striking strings, while 'Waiting' is a bittersweet instrumental to bring the record to a conclusion.
There are few negatives here, despite the length of the record, though if we're allowed a small criticism, the vocals fail to match the way the band have spread themselves musically, staying within the tried and trusted template. They never sound out of place, but there is not the adventurousness found elsewhere.
But all in all, at a stage when many bands might start to lose their way a bit, the Unthanks are going from strength to strength – writing and recording a wonderful album. It's long, but worth taking the time to let into your consciousness.