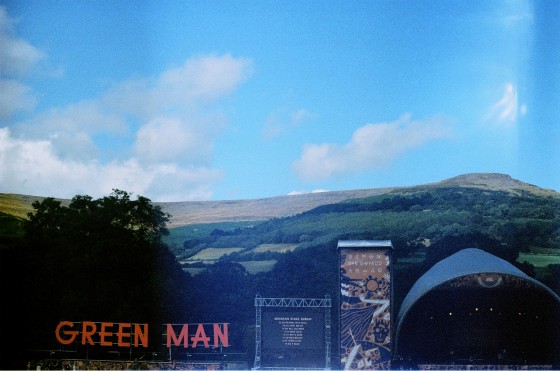 Small, slick and smoothly put together, Greenman entered its 12th year on the festival scene last weekend. Hidden in the heart of the Brecon Beacons, the black mountains play host to a 4-day extravaganza, packed back to back with some of the most up and coming artists currently about. Pluck the impressive acts from London's latest and poorest attempt at a festival, aka Jabberwocky, and land them in a valley in the south of Wales, perhaps accompanied by a pint of home-brewed Rum-Tiddily-Um Cider (just one of 119 ales and ciders on offer), and that should paint a rough picture of the idyllic scene that unfolded yet again this year.
I think I can go as far as to say that Friday presented an absolutely agonising, painful and still to this day regretful series of decisions to be made in terms of who to sacrifice in order to watch. We shouldn't really complain that there were just TOO MANY incredible acts to see on Friday night, all playing at THE SAME TIME, but we did, all day, hoping some form of enlightenment might come from it all. Nonetheless, like everyone else we met along the way, we concluded that there would just have to be a lot of running between stages tonight, and that actually, that was okay. Duo Chris and Channy who bare the bones of Polica brought with them a packed out audience at the Far Out stage, and played an impressive set of new and old material. Their rendition of Lay Your Cards Out at the final hurdle on stage set the crowd flying, and demonstrated Leaneagh's vocal abilities magnificently. The much anticipated Mr. Mac Demarco took to the stage shortly after, and quite literally raised the roof. His stage dive off of 10 feet of scaffolding trumped everything I saw throughout the weekend, and I'm in no doubt he'll be back next year before we know it, headlining this festival as well as every other one in existence. We then legged it back down to the hill of the mainstage, and sat in awe in front of Daughter. Her command over the crowd was astonishing, and it felt as though the entire festival was hanging on her every word. Nervous she may be, the humility conveyed through her performance is just as endearing as the music she plays, which, speaking of, seems to grow in strength every time I catch her live. Elena Tonra has the potential to do remarkable things at where she stands currently, and it'll be interesting to see which musical turn she chooses to take next. Straight up on the Mountain Stage was Beirut, who stood beautifully attired and together, and who proceeded to play a raw and breathtaking set of all the gems across all three albums. In particular, A Candle's Fire exhibited the band's harmonic ability, and backed by a teaming array of brass instruments, they rang through the arena gently but all the more determinedly. Just as they came to a close, we were back up at Far Out in time for the last few tracks of Caribou's set. The spectacle that beheld us when we arrived was extraordinary. They combine elements of house and garage, and dance and pop, and had witnesses dancing furiously right up until the very last track. Inevitably, Far Out took on its infamous persona of After Dark, and The 2 Bears (Raf Rundell and Hot Chip's very own Joe Goddard) smashed through their set, accompanied by an outrageously fantastic dance troupe throughout. My second highlight of the weekend was when, as the penultimate piece of their set list, the Bears just casually dropped in an untouched version of Arcade Fire's Rebillion Lies, which got everyone actually screaming. It was unbelievable.
We relished in Saturday's treats, and The War on Drugs conquered the mountain stage during their sunset slot, who's force drives them powerfully and headstrong through the more subtler windings of their music. They delivered a stunningly cinematic performance, and I count myself blessed to have seen them against the eerie backdrop of the black mountains. William Doyle, guised as East India Youth, soon started up at the Walled Garden stage, and we got there just in time to watch him open. Alone on stage, he layers sound after sound, building a memorizing masterpiece, and watching him do this is powerfully hypnotic in itself.
The Mountain Stage hosted yet another day of delights. Nick Mulvey graced Sunday's sunshine with exquisite acoustics; his capabilities as a guitarist never cease to astonish me, watching him play is completely enchanting. His vocals effortlessly float across his melodies, and his rendition of Cucurucu was electrifying. Boy & Bear soon followed suit, and there's something about their presence on stage that is so captivating. Ever humble, they gratefully thank onlookers between every song, interspersed amongst a set list of both their newest and oldest material. Song's like Old Town Blues display the band's talents in songwriting, and the track's bass riff rang around the crowded hill of people watching. First Aid Kit also made their debut appearance at Greenman, and I have to say that their entire set was the third highlight of my weekend here. The pair's harmonies are nerve-tinglingly beautiful, the kind that make the hair on the back of your neck stand up and make you weak at the knees. Every song they played was a little masterpiece in it's own right, and their finale of Emmylou was absolutely magical. I think I'd pay any amount of money to watch that set again, and those two somehow remind us of the importance of live music, and how precious a captured moment of a group of like-minded, musically-favoured people, congregating together, can be. Unsurprisingly, the legends that go under the name of Neutral Milk Hotel were as equally phenomenal, and closed Sunday night with a party of instruments, which we, while watching the ashes of the now-singed Greenman fade, reflected on; concluding that this was probably the end of another positively dreamt-up weekend, a blurry fantasy of all things spectacular.
I have left Greenman every year and taken with me something very special each time. With this being my fifth year there, we somehow experienced more beautiful and precious moments than ever before. While the weekend might only be fleeting, the people and the artists it attracts are of another kind. This really is a festival like no other, and it's impossible to imagine how Fiona Stewart and her team of companions will top 2014's antics. Although we left fearing the brutalities of reality and the on setting winter, we all knew that it wouldn't be long until we were back, drinking Rum-Tiddily-Um Cider in the sunshine of Glanusk Park again. Bring on 2015.
Words: Ellie Rumbold