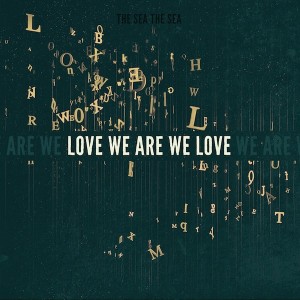 The Sea The Sea is in itself a curious name. Is it taken from the Iris Murdoch novel from the late seventies, or some separate inspiration? It conjures images of beautiful nature and the repetitive band name signifies the weight of the duo's ability to get its point across. It does convey its feelings well in these here songs. This is the duo's debut album.
One of the first things about this folk (country) record is the clarity of vocals and just how to the fore both the male and female voices seem. It's startling and often beautiful. The instrumentation is fittingly delightful and the package over the 13 songs is a really pleasant one. It never quite catches fire until the last minute of 'Boat Song', and it doesn't seem music to have in the foreground for too long, as it surely works more perfectly as a backdrop or even film music. Nevertheless there is much here to admire.
Once you get into the vibe of the album it bears wondrous fruits. It does what it does very well. Every song is beautiful and the two voices work magnificently together. The title track has its hooks in you in its lovely manner, all hugs and kisses, enticing you to persist with the record. It's definitely worth a full listen. There is much beauty on display. All manner of folk instruments litter the album and it almost feels like the man and woman in question have sailed out to sea with a boat load of instruments and the sounds they created are their own ode to the sea. The horror of it, the beauty, the calm, the waves curling up around and swallowing them forever.
These songs are like the children of the sea. The duo made love to the waves with their voices and instruments and here we have the results. It has a gentle delicate grace that is not so common in music these days, and it surely gives hope for the future of the act, who are hopefully just getting going, and just finding out what they themselves are about and are capable of. It feels real and not over polished, like the raw magic of the sea's waves.
In short, a lovely beginning to this couple's career, and by way of a first bookend on a shelf, it's a rather luscious one indeed.