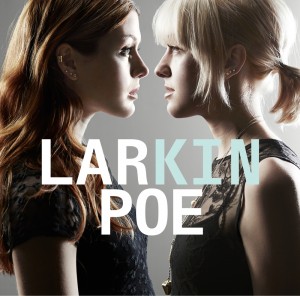 When is a debut album not a debut album? This isn't a philosophical riddle or a trick question, just an honest poser after listening to Larkin Poe's first full-length release. It's a wonderfully confident collection – playful, powerful and full of poise – the kind of thing that newbies simply don't come out with.
And the reason it comes across as such an assured set is that the band's central pillars, sisters Rebecca and Megan Lovell, have been honing their craft for years. First as part of The Lovell Sisters alongside elder sibling Jessica, then through a series of EPs under the Larkin Poe banner. There's also been a live DVD and last year's collaborative record with Thom Hell.
In short, then, this is a debut only in name. In reality it's the work of two twentysomethings flexing some well-trained musical muscles. 'Banks of Allatoona' comes closest to delivering their promise of 'swampadelic soul', a broodingly atmospheric opener with Rebecca huskily ordering "slip out of your dress, slip out of your skin, strip down to your soul".
But they've been around too long to settle in on one groove for too long and soon there are forays into sultry blues ('Dandelion'), romping, stomping glam-rock ('Don't') and a staccato quasi-rapped belter ('Elephant') that Jack White would nod approvingly at. Yet this is not just a pic 'n' mix trawl through genres because the constants – sweet sisterly harmonies, Rebecca's kick-ass solos and Megan's vibrant lap-steel – knit the whole thing together.
Radio playlisters after a catchy hook need look no further than 'High Horse' ("you better get down…that baby's gonna buck you off") but it's really just the tip of the iceberg.
Words: Rory Dollard