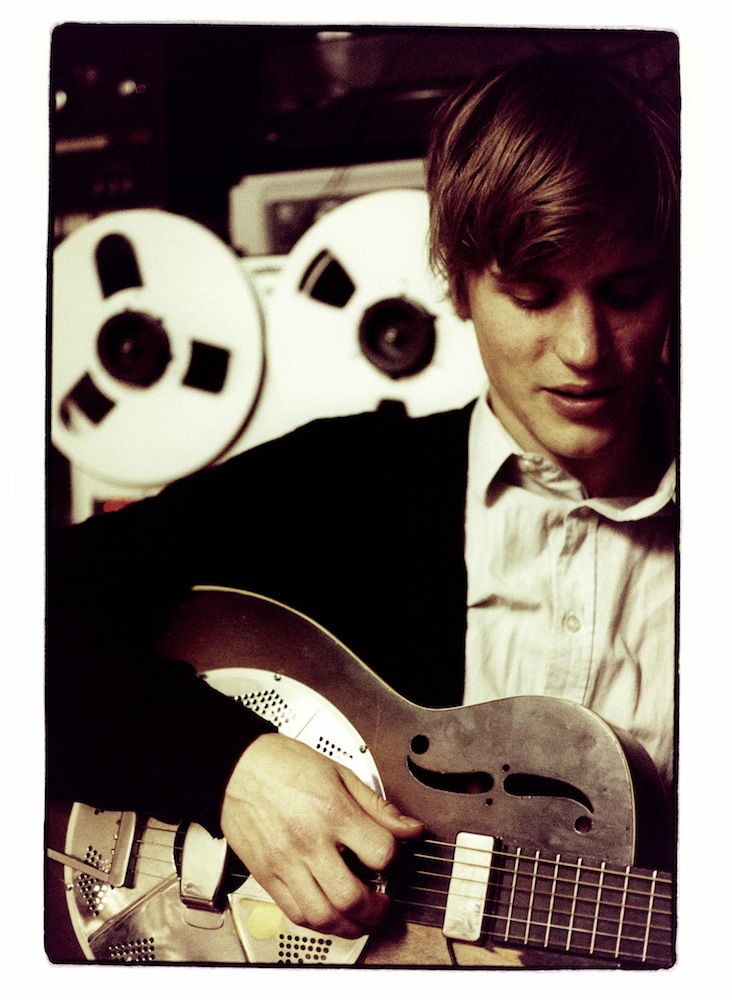 Watching Johnny Flynn live is a lot like spending the afternoon with your grandma. Take, for example, his confusion when playing a brand new song to 'more than three people' for the first time.
Upon beginning, a man at the back exclaims with a degree of excitement which so alarms Johnny that he stops. How has this man heard his new, secret song? "Have you been lurking near my kitchen?" he asks.
"No" is the answer. It becomes clear that this Flynn superfan has simply been using the world wide web to access a site you may have heard of called The You Tube, upon which Johnny has placed a rough recording of 'Bottom of the Sea Blues' and promptly forgotten all about it. The video, recorded in his kitchen, was uploaded as a teaser for the tour he's currently on, so it would seem to have had the desired effect.
On a hot July night, a crowd of folk fans converged upon Notting Hill's Tabernacle, an unusual venue which combines aspects of community centre (there was a Capoeira class going on when we arrived), West London nightspot (the chips are 'spensive) and full-on church (it looks like a church).
Johnny Flynn is, to use his own words, currently 'on a mini-break' with Welsh troubadour Sweet Baboo, taking in the illustrious sights of Notting Hill first, followed by Manchester's Deaf Institute and Colston Hall in Bristol on 29th and 30th July respectively.
Stephen Black, A.K.A. Sweet Baboo, took to the stage before a modest crowd that grew as the news travelled: this was a support act who pushes many of the same buttons as the man at the top of the bill, and pushes them with some dexterity.
Deeply passionate about funky dancing and campervans, Sweet Baboo entertained the contingent of passionate Flynnites with his trademark combination of sweet-sounding melodies and quotidian lyrics.
His set built up nicely to utter pop hit 'Let's Go Swimming Wild', which has a gorgeous, floaty, trumpeted chorus that you might like to listen to as you read.
Sweet Baboo closed with a flabbergasting charmer of a song about the campervan he's trying to get his girlfriend to buy for him. 'I Found a Motor Home' extols the virtue of a holiday house with wheels and engine: a separate porch, the option to drive to Bangor castle whenever you fancy, and lights that can be dimmed "so no one can see in" (saucy).
I'd buy Mr. Black a campervan if I had £4,000 spare and was his girlfriend, and only partially because we might get to visit Mr Flynn from time to time.
SPEAKING OF WHOM.
Did you know that Johnny Flynn is a Piscean who shares his birthday with Einstein? And that Sweet Baboo is also a Piscean, but he shares his birthday with the Mac Daddy of Celtic crooning, Ronan Keating? Niche tidbits of information, but valuable nonetheless.
Flynn (appearing Sussex Witless) played an all-consuming set, delighting a sweaty contingent of loyal fans at every turn, irrespective of the occasional, almost imperceptible stumble. Although he appeared without a band, Flynn was joined halfway through by sister Lily who rushed over from a late-running babysitting job in Lewisham (ah, the glamorous lifestyles of the Flynn thespian dynasty).
Fair to all his recorded children, he played an equal range of songs off 2008's A Larum, 2010's Been Listening and forthcoming, thus far unnamed album which is due for release in September 2013.
We all know the old songs are beautiful belters: well-worn classics that he's been playing to rapt crowds for half a decade or more. What's most exciting is the news that the next raft of songs radiate just as much depth and deliciousness, promising to keep us sated for another three years whilst he runs off to promote his new film with Anne Hathaway.
The new songs weren't a vast jump away from what we're accustomed to in terms of style, but there's something more abundant and hopeful in their tone. The birth of Flynn's first child has made its tender mark: 'Holly Golightly' is nine tenths nursery rhyme, conjuring images of fairies and willow the wisp-type characters. Shimmering glory of a lullaby 'Oh My Darling' is so delighted with the world that it brings to mind exuberant school assembly anthem 'All Things Bright and Beautiful'.
Flynn builds up to a crowd-participatory kicker of 'Tickle Me Pink' which sees some exemplary harmonies from an audience more than willing to roar about praying for the people inside your head.
Opting for a noncore (in place of an encore) Flynn stays on stage to maximise singing time and treats us to a pared-down rendition of 'Been Listening'. With that, we're released into the summer evening exultant and full of the joys of Flynn.
Johnny Flynn's new album will be released in September 2013. We promise to tell you ALL about it.