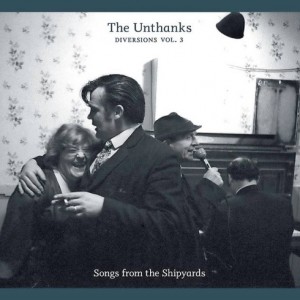 If there's one thing The Unthanks can do really well, it's evoke images of a northern yesteryear. In this latest offering from the sisters and their band, they rework folk songs by the likes of Graeme Miles, Alex Glasgow and Peter Franklyn Bellamy to bring the listener tales from hard workers and memories of hard times. This third 'Diversions' record follows Volume 1, The Songs of Robert Wyatt and Antony & The Johnsons and Volume 2, The Unthanks with Brighouse and Rastrick Band, and was originally put together as a soundtrack for a documentary by Richard Fenwick about the history of shipbuilding on the Tyne, Wear and Tees.
The one song that everyone will recognise is a new rendition of Elvis Costello's 'Shipbuilding'. While it doesn't hold the emotion of Costello's version or the rawness of Wyatt's, it's a lovely new version to add to the song's history, accompanied with just layered vocals and a warm piano. It's a theme tune for ship workers and there's no way it could, or should, have been left off this collection, even if a cover of this is a big feat even for a band with The Unthanks' folk cred.
The rest of the album is as equally as stripped down, with just a lone piano, a spot of guitar, accordion or maybe a violin to accompany four part harmonies that often have moments of a Capella. Ambient sounds of the shipyards, seagulls and ports introduce the album's prelude, 'The Romantic Teas', which returns later in the album as a spoken word piece by band member and producer Adrian McNally. It's followed by 'A Great Northern River', a stark, dark and despairing song, but beautiful. Becky Unthanks' voice takes a starring role, sounding breathy and rich like a prized clarinet while Rachel's harder tone is a wonderful contrast and her Northumberland accent shines through as always.
The tone full of hope and hard graft continues with mesmerizing wonder, each line as poignant as the next, from stories of the workers themselves in 'Black Trade' to the view point of a child in 'Fairfield Crane' and from the lovely melody of 'Taking On Men' about the end of the industry to the dreamy 'Big Steamers', sung by Niopha Keegan.
For followers of The Unthanks, it's no surprise to hear Songs From The Shipyards is a blend of traditional folk tales and rearrangements of old songs with the band's stamp of pitch perfect harmonies. It's about the songs, the words, the stories, and is more of a concept, full of varying moods and tones, than a record of rich pickings from one of the UK's best folk acts. For true folkies out there though, it's definitely another to add to your Unthanks collection.
Words: Gemma Hampson