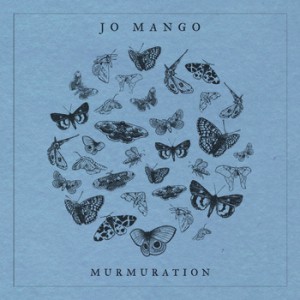 Given that it's six years since Jo Mango released her debut album Paperclips and Sand, we can imagine a fair few listeners will be discovering this Scottish songbird for the first time with sophomore release Murmuration. It's not like she's been dawdling all that time, even if this album has taken two years since the opening two tracks were introduced on The Moth and the Moon EP (a record put out on such a sublimely packaged vinyl that those new listeners might want to check it out right away). In the intervening time she's been out touring with Vashti Bunyan's band and collaborating with a lengthy list that includes David Byrne, Devendra Banhart, Coco Rosie, Teenage Fanclub, and Admiral Fallow.
It shouldn't take those hoards of newcomers long to figure out what keeps Jo so much in demand. Her voice is so exquisite and delicate you hesitate to move while listening to it for fear of shattering some kind of spell. She almost whispers the opening lyrics to 'The Moth and The Moon', "Six o'clock in the shhh of the library", instantly creating a beautifully intimate feeling of an illict conversation somewhere between the racks.
Her voice is so seductive it's almost a distraction. Trying to analyse, for the sake of a review like this, the quality of her songwriting or anything else isn't easy when you just keep drifting off. But Jo isn't a one-trick pony either. She veers away from more simplistic structures without losing anyone along the way, and while 'The Moth and the Moon' captures her at her most beguiling, the stand-out here might well be 'Kingdom', a song which takes as its topic the aftermath of a stabbing. It also allows Jo to showcase a sideline in something that is either irony or a total lack of self-awareness. "Is anything beautiful anymore?" she asks. Yes. This is.