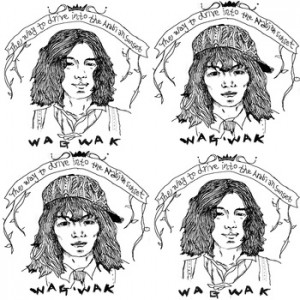 Made up of singer-guitarist Daehyun Kim and madcap multi-instrumentalist Sangyoung Cho, WAGWAK's curious moniker is an acronym of We Aren't Gay, We Are Korean, after they were repeatedly mistaken for a couple. Self-professed disciples of FFS favourites Slow Club, Mumford and Sons, Laura Marling and Noah and the Whale, they are gearing up for their forthcoming (and somewhat non-specific) relocation to Europe with a sound rockier than that collection of influences may have you believe, occupying psychedelic indie territory.
The title consists of those of the EP's constituent parts – in the manner of Green Day's 1,039/Smoothed Out Slappy Hours, which brought together the 39/Smooth, 1,000 hours and Slappy EPs – and 'The Ways' is perhaps the best of the three tracks on offer. As the compound title would imply, though, the three blend seamlessly into a coherent whole and are best enjoyed as a single work of close to 13 minutes.
'Arabian Night' offers a tale of heartbreak and 'The Ways' itself is all soaring aah-ah-aahs, while the closing instrumental 'Driving Into The Sunset' has just such a feel about it. While there may be nothing earth-shattering on show, it's an enjoyable offering from an unexpected source. Be sure to drop by and check them out if you find yourself in London or, um, Stockholm and fancy some live music.
Words: Tom White