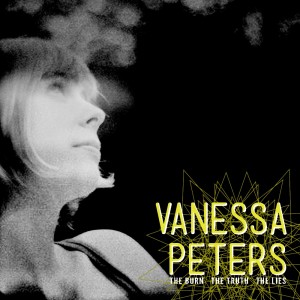 It is hard to believe that Vanessa Peters is on album number seven, and after the much-acclaimed Christmas album released last year, many have been waiting on tenterhooks to see what Peters has got up her sleeve next. Well, rest-assured, it is yet another gem of an album, probably her best yet.
After the split from her band three years ago, it has clearly been a long, painful road back to the studio. A lot of the songs on The Burn, The Truth, The Lies are unashamedly honest and at times, quite dark. Even though the lyrics are probably the deepest we've seen from Vanessa, there is still the trademark light-hearted musicality which makes this album so easy to listen to and connect with. Peters proves that you don't need to depress your listener in order to get your thoughts and experiences across. Many of the songs on this record will appear on people's summer playlists, especially the delightful 'Bright Red' and the wonderfully sincere single, 'The State I'm In'.
Vanessa's choice of musicians for this album is again testament to how far she has come since her debut in 2002. Recruiting the likes of Rip Rowan and Polyphonic Spree's Jason Garner and allowing them musical freedom during the recording process has resulted in a fresh spontaneous sound which further enhances the stunning lyrics Peters has brought to the table.
Every song on this album leads us in deeper into the world of Vanessa and because of her knack to create infectiously catchy pop songs, it only takes a couple of listens before they are embedded in your memory. 'Copilot' and 'Grateful' are two of many songs that are perfect examples of Peter's pop song-writing credentials.
Quirky, sweet, sincere, memorable – the list of adjectives go on for this album. Vanessa Peters has shared good and bad memories with us on The Burn, The Truth, The Lies and I can't wait for her to share some more stories with us on album number eight!
Words: Carly Goodman