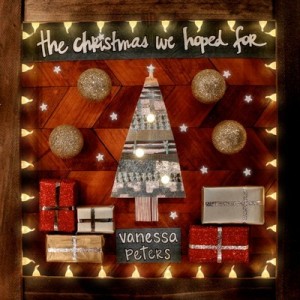 At a time when every Tom, Dick and Harry are releasing a Christmas album (Tom, Dick and Harry probably being Michael Bublé, The Smurfs and Cliff Richard), it's great to see the folk community getting in on the action this year. So when it was announced that acclaimed singer-songwriter, Vanessa Peters was releasing an album, I immediately ejected my Bublé album and re-started my Christmas journey with Miss Peters. And she didn't disappoint.
Where other Christmas LPs shower you with cheesy brass and over-the-top crooning, The Christmas We Hoped For manages to hit the spot with a wonderful subtlety that could bring festive cheer to even the biggest scrooge.
Peters doesn't have to do a lot to captivate the listener. The purity of her voice manages to make even the mellowest songs on the album sound uplifting. What I like most about this album is Peter's diverse choice of songs. From putting her traditional-folk stamp on a classic like 'The Christmas Song', to her mellow take on the more traditional 'Oh Holy Night', Vanessa succeeds in doing the unexpected with songs that are usually so conventional.
There are many highlights on this record. The haunting, almost surreal atmosphere that surrounds Peter's version of 'Winter Wonderland' showcases the beauty of her voice. The finest moment on the album is possibly 'What Child Is This'. This medley of conventional hymns has all the ingredients you could ask for. Tradition tied in with the fusion of folk and jazz and Peter's lush tones make for a brilliant tune that will warm the coldest of hearts.
The Christmas We Hoped For is a great collection of festive treats which highlights Vanessa Peter's great talent for creating innovative versions of other people's songs. If you're looking for a fun, poppy yet hollow Christmas album, then I suggest you retrieve the Bublé album. But if you want a more thoughtful, mellower Christmas soundtrack, this is the album for you. Merry Christmas everyone!
Words: Carly Thomas
Have Yourself A Merry Little Christmas by vanessapeters
And if that's got you feeling all Christmassy, don't forget to check out our compilation For Folk's Sake It's Christmas 2011, which is being sold to raise money for the Integrated Cancer Centre. It features songs from The Leisure Society, Kathryn Williams, Devon Sproule, Darren Hayman Caitlin Rose and many more. For Folk's Sake It's Christmas 2011 is available to pre-order now from Bandcamp.