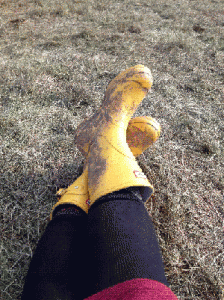 For anyone who like End of the Road, the prospect was tantalising. A festival that had toilets, bands and comedy like End of the Road but also was smaller, by a lake, up North and in June.
And we were not disappointed. Apart from the June bit.
The site was lovely. The festival was just big enough for you to be able to feel like you were in a crowd for those bands that warranted a bit of a crowd, but also where you never worried about losing your mates because they'd likely be around nearby. There were lots of interesting hats for sale. The beer was lovely. And the cider bus and the tea bus.
But the music.
I discovered two new (to me) bands, both with slightly weird names, which is annoying because in conversation you have to look slightly unsure in case you are being an idiot and getting it all wrong. So embarrassing.
Laish are gentle folksters whose song lyrics include cups of tea and pipe smoking, and commuting. They have an endearing energy that locks you into each song, and when I say – they kind of made me forget it was raining – I think anyone who's been to a festival in the rain will recognise how good they are.
They are a 5 piece band with several songs featuring a clarinet (there's always something lovely about seeing grown ups enjoy playing an instrument that you only associate with childhood compulsory music exams). Lead singer Dan Green's faun-like appearance adds to the band's sense of magic, and it would be easy to imagine they had just wandered out of Sherwood Forest to cheer you up. They were just as great to listen to unplugged in the Rough Trade "in tent" later in the weekend as they were on the main stage in the rain.
The second "discovered" band is Urusen. Any band with an enthusiastic cellist is worthy of note, but these chaps also have uplifting songs, and the full range of folky troubadour – from curly hair bearded to clean cut ironed shirt. I think there may have been about 7 of them, but they were squeezed onto the tiny beautiful lakeside stage and so difficult to count. Their sound reminded me a bit of the sadly defunct Cherbourg, but more cheery. 'The Islander' is typical of their style – starting sounding proper melancholic, but building into exuberant big sounds and harmonies full band of hope and expectation rather than nostalgia.  And just enough footstomping, chorus joining in and clapping opportunities to make the small crowd feel like we were part of what was a great gig.
There was plenty of other great stuff, but the only other band I must mention is Slow Club.
They just get better and better. They were able to make a bigger sound with extra support from a fantastic drummer and a young chap who looked so pleased to be on stage, we assumed he must have won a competition. Rebecca charmed the crowd with her local banter, and Charles broke into a smile several times. The people around us danced for the whole set. They played some great new songs and everyone joined in on 'Giving Up on Love'.
Helen Morant