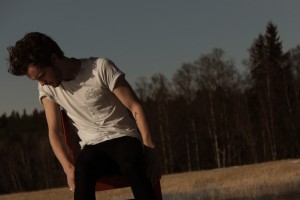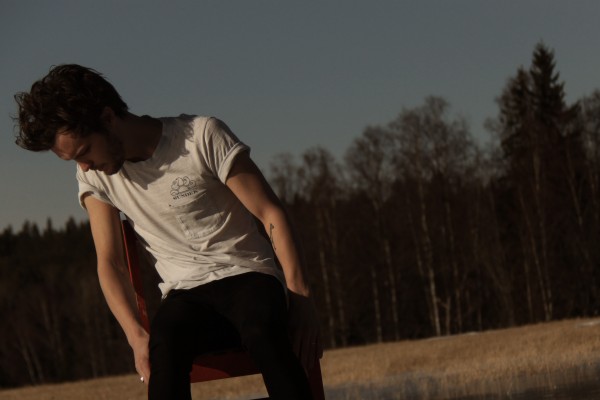 To (mis)quote Blur 'I think he'd like to have been Jimmy Page but then nature didn't make him that way'. That's the impression The Tallest Man on Earth (aka Kristian Matsson) gave as he stalked, strutted and swaggered his way across the stage of the Hackney Empire. Rarely standing still when not singing, Matsson is a showman, prowling the edge of the stage and elongating song intros to keep the crowd guessing. It's rare to see such stripped down, introspective folk-tinged music delivered with such arrogance but it's also refreshing too. Matsson knows he's good and he doesn't mind letting you in on the fact.
If he failed to come up with the goods it would be jarring, but there's rarely an unconvincing moment in his spellbinding 75 minute set. All alone on stage, accompanying himself on a range of electric and acoustic guitars and exhausting himself with his relentless manic fingerpicking style there's not a bum note to be heard anywhere. Few solo artists do bittersweet lament as beautifully and distinctively as Matsson and his rough, stylised vocals discover an added crispness and poignancy live. And although he apologises for his songs not being happy several times, he's not kidding anybody.
Songs from the new album There's No Leaving Now; the rousing strumathon '1904' and the title track (played on piano) were arguably the stand out songs of the night, while opener 'To Just Grow Away' was a sprightly, upbeat way to start off the evening on electric guitar. Despite having just released his new album, the set didn't rely heavily on the new release, as he ripped through 'I Won't Be Found' ' and 'The Gardener' from his debut album Shallow Grave and then arguably his most well known (and well received on the night) song 'Love is All'.
Inevitable comparisons with Bob Dylan are never far away but aside from the similarity in style to 'Freewheelin' era Dylan it's his re-working of songs that suggest a further likeness. The first line of 'Like the Wheel' was greeted with cheers, maybe because it was indistinguishable from the intro. And you'd have been hard pushed to sing along with the chorus. But it still worked. A de-javu moment for anyone who's seen Dylan live.
After the briefest of exits, Matsson returned to the stage to almost apologetically play piano (which he refers to as 'that thing') on 'Sometimes the Blues is Just a Passing Bird'. After burying his head in the piano to finish, on came wife and support act Amanda Hollingby Matsson to sing. They produce incredible harmonies as they chime together on 'Thrown Right At Me' as Matsson gently picks an electric guitar. Unfortunately they spoil it with some 'get a room' moments in between verses, with Matsson turning his back on the crowd. By then he knew he'd delivered the goods.
Greg Loades