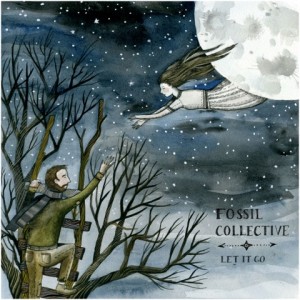 I joined the growing ranks of Fossil Collective's many fans after I first heard their signature number 'Let It Go' a year ago. It's been a long wait, but the rest of the tracks that make up the Let It Go EP have finally arrived. Despite sharing a label with Little Comets, whose super shiny indie pop tracks have graced many a MP3 player, this record feels like a low-key introduction. 'Let It Go' is an epic song, beautiful in its arrangement and whimsical lyrical content, but the production doesn't do it justice – a problem that encompasses all five tracks.
It feels like the songs have been over-compressed and over-treated with EQ so that there's plenty of treble, and next to no bass. When the vocal harmonies pay homage to Fleet Foxes, this treatment can work, but it never quite serves on the acoustic guitar parts, which are well-played but end up lacking bite due to this misjudged production style.
What's really interesting about the duo is their subtle blending of the acoustic and electric, this is especially beautiful on 'Without A Fight', which blends a cute glockenspiel with bluesy guitar and some interesting drum effects. EP closer 'Everything But You Was Facing North' is a lovely way to wrap things up, almost Coldplay-like in its arrangement, without sounding derivative. The choice of a beautifully ambient piano over the electric keyboard used in previous track 'Guaratuba' is a wise move and one that helps leave the record on a high.
Words: Frankie Ward