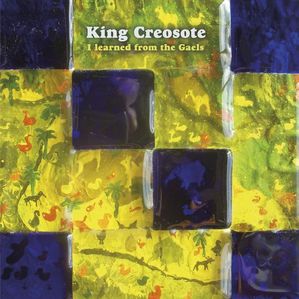 From what I had heard from King Creosote before and given the title of this EP, I was expecting a gentle acoustic affair. It turned out this assumption was entirely wrong. Opener 'Double Underneath' immediately sets a different tone, upbeat and danceable, indebted to the 80s and a sure-fire live favourite. It also signals that a different side of King Creosote is coming to the fore on this EP.
'Near Star Pole Star' is more the kind of music associated with King Creosote as it is a wistful song about lost love. It is also more dominated by the unmistakable voice of King Creosote.
There is, however, no time to dwell on such sadness as third track 'Single Cheep' is another more upbeat number that should again have the toes tapping in earnest at live shows. The collection concludes with the rocky, scuzzy 'Little Man', which sees sees Alan Stewart of Gummi Bako take lead vocals and a number of Fence Collective artists make a wonderful noise.
That's fitting as this EP is less of a solo effort than many that King Creosote has released before, instead being an opportunity to get several others involved and to have a lot of fun while doing it.
Words: Eala Macalister