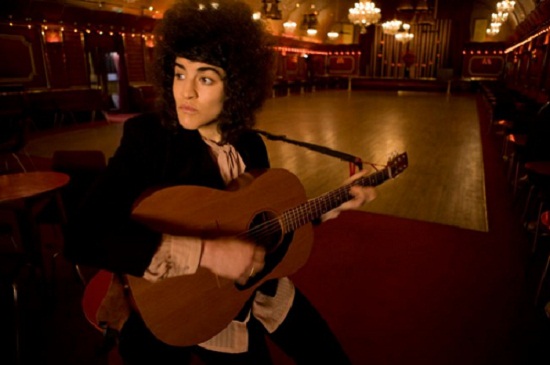 There are some interviews that feel more like conversations, where the artist is so candid and engaging that you can't help feeling drawn to them. Karima Francis is one such artist –  unflinchingly honest, self-deprecating, direct, and sweet, but also occasionally fragile and uncertain. Having overcome a tough childhood followed by an eating disorder, this is an artist for whom music is no less important than life – it's the thing that binds a complex and passionate character together, but which has also bordered on addiction or compulsion. With her second album, 'The Remedy', set to come out in August, we spoke to this intense, compelling, and above all promising young artist one hot afternoon in Camden…
You've been doing a lot of touring and gigging recently – what is it about being on the move that appeals to you?
I'm noticing more as I grow up and grow into myself that I'm constantly running away from my own self, and if I'm not writing or doing music I'm afraid of my own thoughts…I'm finding that I get – not bored – but just really agitated if I'm not doing something like music, and I find it really hard to do normal things. So when I'm always moving I class it as being working and then I feel kind of all right.
It sounds like music is a kind of therapy for you. Does it help to get it out there and share it?
You know how people use music to express? It's not like that. I find that I write the songs to be able to perform them, to be on the stage. That's when everything that's ever bothered me disappears, and I live for that moment, which I find is really unhealthy – I've got a really unhealthy relationship with music! At the same time as it being my saviour and the one thing that makes me happy, if it's not there for me then I can get quite sad.
Is it a bit like an addiction?
It's definitely an addiction and I've got an addictive personality! When I want something and crave something, then I really crave it and it's always been like that. It's always been all or nothing and that's probably why I got so ill as well. I can never do anything in a normal way, it's like that in relationships or if I fall in love, I fall deeply in love. I think I'm just a really passionate person. I'm aware of it but it's strange to know I'm this human being who's driven by fire.
It seems that a lot of artists have that kind of addictive, passionate personality – do you think that's what makes someone a good artist, or helps them be successful?
Yeah, yeah definitely…I think you get people who mask what it is they really desire because they might not think it's a cool thing to show. There's a lot of rock stars, pop stars, and singer-songwriters who seem untouchable and I think underneath they've all got that same thing in common –  we're all driven to get the same success. I do admit I'm only just beginning to start knowing who I am again – I lost myself for a long time… I don't need to be famous but I do need a few years' career – I need to do this for my own survival.
A lot of your material is based on heartbreak or hardship. If you were perfectly happy would you still be able to write music?
I don't know…maybe not!
How are you feeling within yourself now?
I feel really confident and I'm very proud of this record, it's like my ultimate masterpiece. I've always wanted to make The Jagged Little Pill, that kind of record where it's 10 tracks and when you finish you want to put it back on again – they're the best records. And I strongly believe it's one of those… Don't get me wrong, I'm not up myself, but I step out of my own shoes as a punter and I would want to buy it and I don't really want to buy many records anymore! I get let down a lot by records, do you?
I do – and particularly people that I've loved for years and you can see them become slowly less good…
I always try to make a better record than the last but I didn't think I was gonna' make this second record. The songs were written in a period of time when I wasn't sure I was gonna get another shot.  I think that's maybe why they're so pure. I'm just a bit wary cos' the first time it went wrong, and I'm a bit like – I'll believe it when I see it!
I'm surprised you're so cautious as you've had so much great feedback so far…
I know what my dream is, I want to be on Letterman! I want to go to America and sit in the back of a van for two years gigging every single day and waking up and being like: radio radio radio, gig gig gig! Touring the fuck out of it so everyone knows who I am for the right reasons, not because I've had a hit that's had shit-loads of money thrown at it. I want to be someone who's around for a long time so – I'm just wary, not not confident. It's a great record, I do believe it, but I'm not the kind of person who's going to sit here and brag about it because that's not me.
Who are you inspired by?
My heroes of today are people like Ray Lamontagne. He's probably my favourite songwriter of the day, best melodies in songs, and his voice… And Ryan Adams is a classic song writer that I've always liked. But when I was younger my mum used to listen to The Carpenters and I always wanted to be like Karen Carpenter – weird! I used to look at her and I used to cry and think, 'I don't understand, I don't understand, why she would do that?' It's a horrible thing.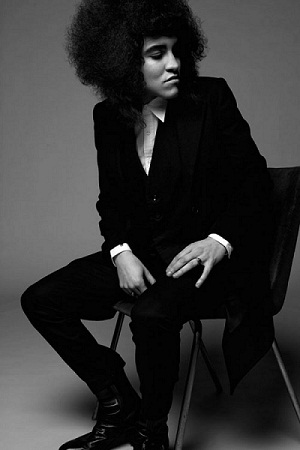 A sense of 'place' also seems very important to your music. Why is this?
'Away' – just 'away' is influential to me. I find that I have to be on the move – in a different hotel room or different environment to write. I'm learning myself – I lost something and I've come back as something else and maybe it's stronger. Things are getting better, my videos are on the telly and stuff, and it's on the radio all the time…
Is that weird?
It feels natural, cos' I've done the work, 6 years, including 3 years of getting better, so it's a really long time. Everything's so precious to me and it's so overwhelming, just you wanting to come and do an interview, it means a lot to me that you'll come out of your way….
Well we're all really excited about your music… Going back to your successes though, what was it like being on Jules Holland?
It was my dream come true but one of the saddest moments of my life cos' I can't remember it. I was really tired and…that moment of time went by so quick and I watched Jules Holland back when I was in the hospital on a drip, and I actually watched it with this man called Church and I don't think he even recognised that it was me on telly, and I was sat there on my own just flooding in tears.
That's so sad…I'm sorry. I hope you're feeling better now.
It's like, besides all the music, I want to be happy now.
But what will you write about when you are happy and in good relationship?
You know what, no-one wants me! I don't think I'm giving out the right signals, maybe because I'm still going through a bit of a heartbreak…
Do you not think that you're a bit untouchable, you're the artist on the stage? It's quite hard to approach people like that!
Really? I hope tonight's my night, I really do! [laughs]
Whether tonight is her night or not romantically, she certainly nails it as the support act for The Mystery Jets –  and this blazing girl has plenty to be happy about, with new single  'Wherever I go' receiving an impressive amount of airplay, not to mention a forthcoming slot opening for Paul Simon at Hard Rock Calling. The only worry with artists such as these is that they occasionally get burned by their own fire. Here's hoping that Karima Francis will emerge unscathed.