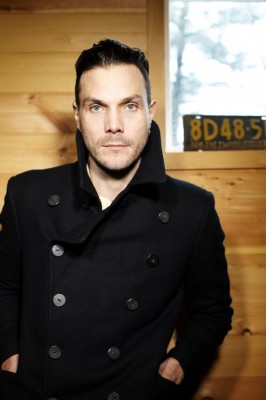 The last time I saw Simone Felice perform, he and his brothers were jumping around the stage at the Brudenell Social Club in Leeds – singing about chickens and turning a humble washing board into an instrument.
This time, at the Pocklington Arts Centre in East Yorkshire, it's an altogether more grown-up affair.
People in the auditorium are on average about 20 years older and the set up is positively theatrical – Felice and his band on stage in front of a 200-strong, all seated, audience. There are no beer-swigging students standing at the back here.
Felice is joined on stage by the wonderful Simi Stone, whose haunting voice is a perfect accompaniment to the man from the Catskill Mountains. Close your eyes and their intertwined soft country voices whisk you away to Felice's America. Music rarely gets this personal and the tales Felice tells are inseparable from the man himself.
You don't need a biography to appreciate his music but to know a little of the man himself explains some of the angst and ghost-like quality of much of his sound and lyrics.
The market town of Pocklington is the penultimate date of a six-week tour, he tells us, and more than anything he's looking forward to going home and seeing his little girl Pearl. Felice credits her for saving his life, which may sound over-dramatic until you remember that this is a man who has nearly died twice. The second time, he kissed goodbye to his wife's pregnant stomach, not knowing whether he would ever live to see his unborn child.
Knowing this, 'Your Belly In My Arms', written long before Pearl's birth, suddenly seems all the more pertinent.
Then there's 'Hey Bobby Ray', which is a tribute a Native American girl who was raped near Felice's hometown. The story has haunted him since he was told it as a child. This song, he says, was written to help her spirit find peace.
But it's not just his solo tunes he sings tonight.
There are nods to his previous musical venture The Duke and The King, formed with old friend Robert Bird Burke, including 'One More American Song' and the gentle strummings of 'If You Ever Get Famous'.
The slightly rawer but no less impressive sounds of the Felice Brothers come through too with 'Don't Wake the Scarecow' and 'Radio Song', the latter sung in memory of The Band's Levon Helm.
But the most moving point in the evening comes after not one but two standing ovations, when gets the audience to join him in a rendition of Dylan 'Knocking on Heaven's Door'.
We've shared in his stories, music and emotions but being asked to sing with him and join his world for those few minutes is almost engulfing.
Thank you, Mr Felice, for sharing.
Words: Natalie Marchant