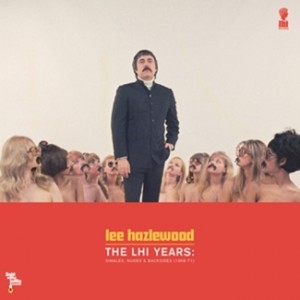 Lee Hazelwood has always had a sense of humour – his last album before he died was called Cake or Death after an Eddie Izzard sketch. It's no surprise then that this reissue of some of his greatest songs is the Singles, Nudes and Backsides collection, the 'LHI years' (Lee Hazelwood Industries) spanning 1968-71, with a cover sporting half naked girls in moustaches.
Even though he's not around any more, he manages to squeeze a smile onto our faces. Title aside though, this is a collection of simply wonderful songs, from the most uplifting and seductive to the most heart-wrenching and tragic.
Hazelwood's unmistakable baritone, gruff and sensual, is the star of all of them, like the Barry White of easy listening. But, like in most of his music, it's the attention to detail from his band and production that makes him almost addictive.
On your first listen to 'No Train to Stockholm', it's pretty much impossible to stop the eyes welling up when the close and fragile backing comes in, accompanied by a bubbling single-picked bass and delicate Hammond. Even without having seen his film from which this is taken, Cowboy In Sweden, you can hear his character's torment. It's staggeringly beautiful. 'What's More, I Don't Need Her' tip-toes over an amazing orchestra with lush strings, French horn, trumpet and harpsichord, with a gorgeous harmonised backing like something from a '40s musical. 'The Bed' is another story of a tragic and desperate figure, but a brilliant example of how Hazelwood crosses the divide between Andy Williams and Serge Gainsbourg. He's so rock 'n' roll!
While he's more than brilliant on his own, either with the softest touch of a band or a full orchestra, Hazelwood's voice is synonymous with the duet. There's no Nancy Sinatra on this collection, but that quintessential '60s sex kitten is here in full glory, from the schizophrenic jolly 'Sleep in the Grass' with Ann-Margaret to the Bacharach-esque love story 'Hey Cowboy' with Nina Lizell. But the finest has to be the duets with the enchanting Suzi Jane Hokom. 'Califia (Stone Rider)' has a soulful and southern tone and again oozes with luscious backing while the more psychedelic 'Nobody Like You' is just an explosion of perfect pop.
If you're already a Hazelwood convert or new to his name, The LHI Years is a super collection, full of varied themes and tones but all showcasing the magic of Hazelwood's voice, song-writing and legacy.
Words: Gemma Hampson