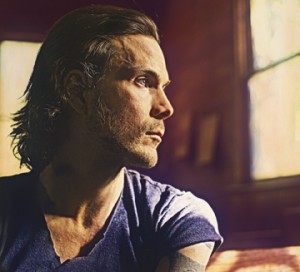 The former drummer of the Felice Brothers and the brains behind The Duke & the King, Simone Felice's first solo record arrives weighted with expectation.
There are moments of the brilliance of both outfits in this eponymous debut,  recorded with Ben Lovett of Mumford & Sons who also features on backing vocals.
Felice has been through seriously hard times. So it's no surprise that this album is darkly reflective. But there's little autobiography in the lyrics, they largely tell stories – both true and fictional – and in some places the emoting gets too much.
Felice's vocals range from delicate to annoyingly wispy. At best they are gorgeously resonant and reminiscent of Tea For The Tillerman-era Cat Stevens ('Dawn Brady's Son') or the Low Anthem's Ben Knox Miller ('Gimme All You've Got'). At worst, his voice sounds wispy and the emotion unconvincing. Hand-wringing songs written for Courtney Love and murdered 60s actress Sharon Tate feel insincere.
Stand-out tracks include the opener 'Hey Bobby Ray', which sounds almost joyous – with an all-girl choir and singalong refrain –  until you hear the stark lyrics about abuse and retribution. Mumford & Sons feature on 'You & I Belong' – a clarion call to the good life.
There's no doubting Felice's ability as a songwriter on listening to this record and from any other songwriter it would be a pretty arresting debut. However its inconsistency and (whisper it) hamminess means it isn't the truly great album Felice fans might have hoped for.