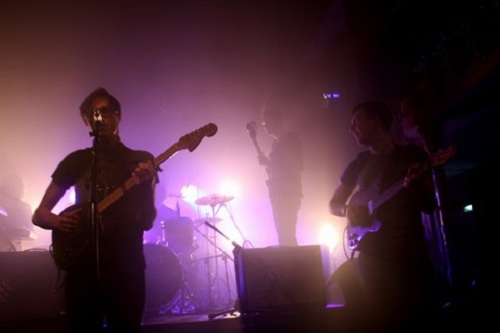 Here at the village-style Hoxton Hall the atmosphere is nothing if not dramatic. Six-strong band, Story Books, are spaced apart on a split-level stage, silhouetted against glaring, 'Close Encounter'-style lighting. With this type of venue and visuals, bumble-gum pop was never going to be the order of the day, and Story Books are suitably moody, brooding and mysterious. Oh, and very good.
For such a new outfit it's surprising how tight they are as a band, and how mature the songs.  There may be more guitars and drums than you can shake a stick at but each component contributes perfectly to the wall of sound that is carefully built up throughout each song.  This is thoughtful, folk- inspired indie that recalls the expansiveness of Idlewild, a comparison made more interesting by the fact that the band are from the Isle of Sheppey.
Sheppey may officially be in Kent, but the thoughtfulness and detachment that comes from wild and semi-remote places is evident throughout the material, particularly on 'Peregrine', which contrasts the freedom of the bird in flight with 'bodies made of stone and wire'. It also demonstrates the band's well-considered use of loud and quiet –  beginning with lead singer Kris's quirky voice over subdued guitar, it climbs to an intense, multi-instrumental crescendo before falling back to a hushed conclusion.  This restraint and intensity in the quieter moments reach, at their best, almost Bon Iver-like perfection.
On new song, 'Knots',  the band show a willingness to experiment by finishing with a highly charged, theatrical drumming section – a bit like River Dance, only good.  Recently released single, 'All Those Arrows', is more standard, 00's indie fare – faster but no less melancholic and with some wistful broken chords in the verse and equally morose lyrics – "I cast my burden on everyone."  Catchy and with a couple of really good hooks, it's been The Line of Best Fit's track of the day and made the band one of Huw Stephens's 'Ones to Watch'. The only slight hitch comes when Kris realises his guitar is wrongly tuned, necessitating some rare audience interaction. Somehow, this lack of communication translates as 'dedicated' rather than 'aloof '. It's doubtful whether Story Books see themselves as indie poster boys or anything other than musicians – with this band, it really is all about the music.
words: Theresa Heath
photo credit: Maja Wis