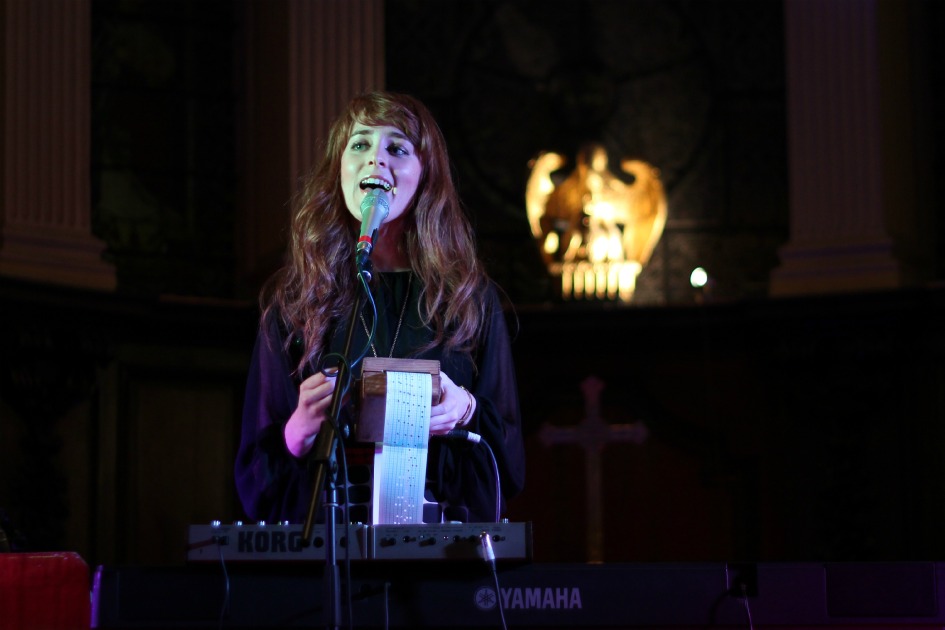 With mulled wines in hand, the people of Leeds have packed into the pews of the Holy Trinity Church to hear one of their own deliver the annual Christmas service from the local Gaslight Club. Well, nearly. Hannah introduces herself and band member Laura Groves (AKA Blue Roses) as Leeds artists, then quickly corrects herself. "We're from Shipley, really," she says, keen to recognise the 12 miles that separate the two.
Details are important to Hannah Peel. The attention she pays them is obvious from the beautifully constructed music she makes. And her sound, both delicate and lush, seems perfect for a Christmas show. There is a fairytale quality to the likes of 'Song For The Sea' and 'Don't Kiss The Broken One' that fits to the magic of the season and while The Broken Wave, with its full string arrangements, is hard to capture live, Hannah's three-piece band provide all the charm required.
As freezing temperatures bite outside, she warms the cockles with a stunning rendition of 'Solitude', which sounds even more hauntingly beautiful in the setting of an 18th century church. There's also an airing for 'Regret', introduced as a 'new' song six months after its debut, giving us a glimpse of the gifts 2012 may have in store as Hannah preps a second album.
Hannah's set caps an evening of festive treats, including sets from promising locals Hunting for Bears and Me and My Friends, carols from These Men, and a joyful set from Leeds troubadour Sam Airey. But the biggest treats are reserved for the end. Hannah brings out the trademark music box to sing us her delightful take on 'I Believe In Father Christmas' (a video of which has found its way on to youtube) and it feels like such a fitting finale that when it's over, she wishes us all a Merry Christmas and starts to walk off the stage. It's left to Laura to remind her they're supposed to finish with 'The Almond Tree'. And what a send-off it is too, as they ramp up the already beefy electronics of the original for a full-blooded rendition that shakes this old building to its foundations.