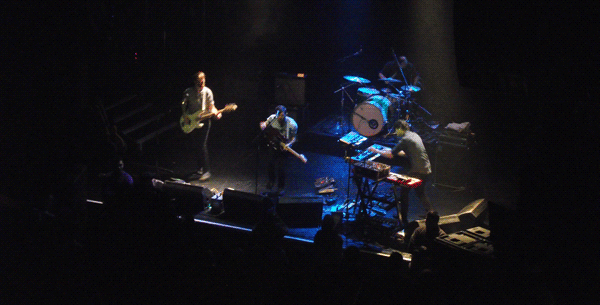 "We want to thank you guys for being here," says Peter Silberman as he surveys the enraptured Koko crowd. "We have no idea how we got here, and we don't know how to get back."
A chilly Thursday night in Camden is certainly a world away from The Antlers' home in Brooklyn, New York, and the journey they have been on over the last few years is even more of a stretch.
Initially created as Silberman's solo project, the three-piece have gone from putting out self-released EPs to taking centre stage at festivals and picking up a loyal fan base on both sides of the Atlantic.
This was their first UK show since the release of Burst Apart, the extraordinary follow-up to 2009's breakthrough record Hospice.
They were supported by hotly-tipped Theme Park, who ambled on stage looking like late entries into a student union battle of the bands, before launching confidently into a series of funky, Talking Heads-style jams.
The arrival of the headline act saw the numbers swell inside cosy Koko, and FFS was forced to find a vantage point on a set of stairs in the upper circle.
But you get the impression that The Antlers would fill the most cavernous of venues, as Silberman's mournful voice punctuated an almost unbroken wall of sound.
They have the ability to re-invent every song from its studio incarnation, to the point where it is impossible to tell which track is next until the words kick in.
Multi-instrumentalist Darby Cicci is part Jonny Greenwood, part Rick Wakeman, hair flopping over his face as he leans over banks of keyboards, pedals and gadgets that provide the band's immensely evocative power.
'Putting The Dog To Sleep' was a particular high point, Silberman waltzing around cradling his guitar as if sleepwalking, while 'Every Night My Teeth Are Falling Out' is as close as they have come to a "mainstream" rock song.
They apply the perfect finish with 'Epilogue', Silberman singing of "Screaming and cursing and angry and hurting/Then smiling and crying and apologising."
The song encapsulates everything that is great about The Antlers. They wear their hearts on their sleeves, they put everything into what they do and they are not afraid of showing a bit of emotion.
They left the stage with a humble "thank you", seemingly unable to believe that so many people had turned out just for them. They had better start getting used to it.
Sam Blackledge