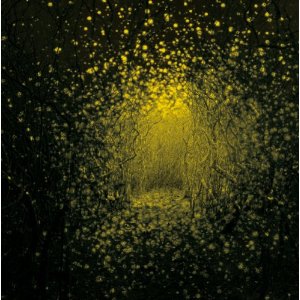 The Antlers' last release, 2009's Hospice, was many things – a story of love and loss, a tragedy, an allegory, a (say it softly) concept album – and could be described in many ways – emotional, heartwrenching, shattering, beautiful. To put it simply, Hospice was incredible, a masterpiece of sensitive, intuitive songcraft that very few have managed to emulate in the years preceding or following it. With that in mind then, it is very hard to listen to Burst Apart, The Antlers' fourth album, without comparing it to its predecessor – we all want to know if the new album will be as good as the last – but to do so is to do it a disservice. This might still be The Antlers, but don't go searching for the same meanings or hallmarks, because they're not what you should be looking for now.
Opener  'I Don't Want Love' makes this clear from the outset; gone are the breathtaking highs and lows, the experiments in expressive electronic noise, and in come simple guitar strums, measured drumbeats and a more stable set of vocals than we may have come to expect from bandleader Peter Silberman's keening falsetto. This appears to be nothing more than gentle (albeit expertly crafted) indie rock. And, whilst the tone fluctuates throughout, the message is clear from the very beginning: don't expect more than what we want to give to you. With Burst Apart, the all-encompassing despair has lifted, and along with it the level of sonic experimentation has dropped, allowing a more melodic, straightforward band to emerge.
'Every Night My Teeth Are Falling Out's rollicking chorus is The Antlers at their most coherent, with a standard quiet-loud verse-chorus interplay leading to an even louder outro – a rock standard. In 'Rolled Together', the band tackles a more ambient approach, with a steady twinkle of synth carrying slumberous guitar and chanting background vocals building to an almost soundtrack-esque quality. 'Parentheses', with its jittering mix of clattering beats, siren-like guitars and Silberman's indistinct wails channels Radiohead circa 2000-2001, with all the paranoia and power that invokes. Yet, despite these seeming travels into other, alien soundscapes, the band always pull it back to a familiar place, a core of definitively 'Antlers-like' sounds, usually rooted in Silberman's unmistakeable tones. This is Burst Apart's greatest trick – whilst never indulging in the successes of the past, the listener is never disappointed at the change.
Final track, 'Putting The Dog To Sleep' seems the ultimate outcome of this attempt at dualistic songwriting. The track adopts the comforting, repetitive structure of soul music, but augments it with distorted stabs of guitar, as Silberman intones, 'Prove to me, that I'm not gonna die alone'. This alone could quite easily be an outtake from Hospice, and yet as the song progresses, this becomes less and less the case. As the gentle swell of organ-warble synth increases, Silberman replies to his own question: 'You said "I can't prove to you/you're not gonna die alone/but trust me to take you home"'. This is as good an example of a musical progression as you're ever likely to see, an acknowledgement of what came before and a realisation of what comes next.
Burst Apart should not be compared to Hospice in as much as it is a product of it; a wilful attempt (and success) at diversifying without losing track. This album can be described in many of the same ways as Hospice – this is emotional music, this is heartwrenching music, this is beautiful music – but it adds new terms that could never have been employed before – uplifting or multi-talented for example – and in adding these new terms you just start to forget the comparison with Hospice. Burst Apart is an incredible album for many reasons, and only one of those is that it makes you forget just how brilliant the last album was. Paradoxically enough, that should be enough reason for every one of you to listen to it immediately.