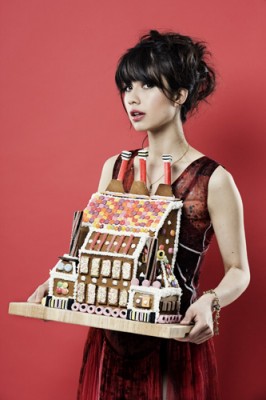 I've recently had reason to move back to my childhood home, an event I regarded with no little trepidation. Aside from the obvious benefit of rent-free accommodation with meals thrown in, my teenage memories are of a musical wasteland punctuated only by the dubious delights of the International Eisteddfod. Imagine my relief to find that times they have been a-changin' – Wrexham's Central Station has lined up some quality gigs this autumn, starting with Emmy the Great on tour with their sophomore album Virtue.
We arrive just in time to catch support act Stealing Sheep performing over the sound of rain bouncing off the venue's tin roof. Eye-catchingly arranged around a central drum, the smiling Liverpool trio are in fine harmonic voice, inspiring a singalong and even some pogoing from an excitable couple near the front. It would be surprising not to see the Sheep headline their own tour soon.
In a truly excessive cloud of dry ice, Emma-Lee Moss takes to the stage for a solo 'Eastern Maria', and a silence descends over the crowd. The words "spellbound" and "mesmerized" are rapidly becoming clichés in Emmy the Great live reviews, but with lyrics this involving I've yet to meet an audience with the cheek not to pay attention. Not that the music lags behind: joined by a four-piece band for a set of old and new material, the sound is both atmospheric and tight. 'Exit Night' is luscious and synth-layered, 'Sylvia' has less rave but more rock than the album version. Big bad themes of lost love, mythology and dinosaur copulation continue to hold the crowd's attention before being lightened by a jaunty version of Weezer's 'Islands in the Sun'. Now I really want to go on the Weezer Cruise. Thanks Emma.
As always, there is wit and charm in abundance, Moss congratulating the front row on their TopShop finery and initiating a debate into the town's highlights (our answers: TK Maxx, the Thai shop that sells mysterious varieties of root beer, and that man who tried to take his horse on a train. We were frankly too embarrassed to shout any of these out). She even offers some kindly relationship advice to a newly single audience member, before launching into the apt and shiveringly sparse 'Trellick Tower'.
Encores include the perennially popular 'Canopies and Drapes' before we head out into the rain with big cheesy grins plastered all over our faces. Not at all bad for a schoolnight in the North East Wales badlands. Bring on the Christmas Album.
Natalie Roberts