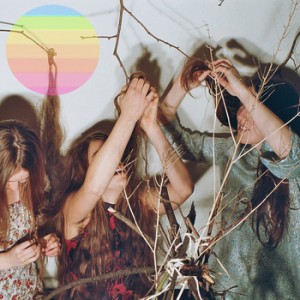 Here in Somerset we have a long founded tradition, one that's forged a rite of passage for many a disaffected reprobate. Sheep tossing. Without the wit to steal one of these roaming clouds, but the itch to do something, as we are surrounded by the buggers, sheep tossing became the logical outflow of misdirected energy. Starting with a lamb and graduating to a ram, your status was measured on the distance that could achieve when tossing one. Before your jaws smash against your feet, hold back. It is but a myth, a lie. Sheep tossing, thankfully, exists only in the mind of a choice few whom preyed on the minds of our Northern friends. Even more thankfully, Stealing Sheep do exist and they're fantastic.
Their EP I Am the Rain is the girls' third recording since 2010 and comes a month before their debut album is released. These previous EPS, 2011s The Mountain Dogs and 2010s What If the Lights Went Out demonstrated a group with a firm understanding of the structures of folk influenced pop music. They are resplendent. With the playfulness of the much underrated Blind Melon melting out, along with the beautiful fragility of Peter and Kerry and the bittersweet melodies of The Mountains and the Trees. Throughout these recordings Stealing Sheep managed to retain the chic of K Records style lo-fi recordings, whilst betraying a desire to spin traditional pop song structures and dynamics upon their head. It is this desire which sets Stealing Sheep apart from their indie-pop contemporaries on I Am the Rain.
EP opener 'I Am the Rain' begins by using the atmospheric approach of the brilliant 90's alt-shoegazers Shallow. With its dark and seductive, underpinned by the girls' fine vocal harmonies, the listener is left floating in a velvety fog, aching for more. If this serves as an indication that Stealing Sheep are now finding their contemporaries amongst more alternative artists, such as The Luyas, then the following three tracks only enhance this shift away from their folk beginnings. 'Noah's Days' and 'Bats' both have passages which are influenced by the ambient electronica of the excellent Emeralds, whilst looking to distort pops verse chorus verse structure in the vein of Forrest Swords. This brilliant combination of dark alt shoegaze, ambient electronica and pop fracturing all comes to a head in the magnificent EP closer 'Secrets'. This song manages to draw together these three disparate genres into a pop song that twists and turns and leaves the listener dying for a repeat.
I Am the Rain is an EP that comes across like a more interesting version of the work of Au Revoir Simone and the only downside to its excellence is that it arrives with only four tracks. On the upside the girls' debut album will be out soon and I for one can't wait to hear it.
Words: Damien Girling