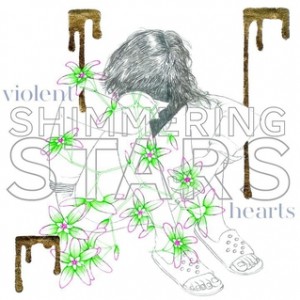 It's the 1950s again! Or is it the 60s? Or the 80s? It's hard to tell. Violent Hearts, the debut album from Vancouver three-piece Shimmering Stars, is an album unapologetically moored in the past – not any specific past, though, or any specific bit of the past, just definitely not now. It's good old-fashioned rock 'n' roll for shoegazers, or doo-wop for garage rockers, or grunge for surf popsters. And it's bloody good fun.
Encapsulating the whole contradictory bundle is I'm Gonna Try, which sounds like a squeaky clean rock 'n' roll band sending sweet harmonies echoing round a hall at a high school prom. That is until you notice frontman Rory McClure is singing: "Walking down the street and I want to kill everyone I meet" – and suddenly the party doesn't seem so jolly any more.
McClure has said the inspiration for Shimmering Stars came to him after noticing the darkness at the heart of bands from the late 50s and early 60s – specifically the Everly Brothers. But Phil and Don never wanted to kill anyone, did they? It's the bubbling tension that lifts Shimmering Stars to a higher level than many of their contemporaries, though, like the thrill of a crowd that might turn nasty at any moment.
Perhaps on occasions Violent Hearts is a touch too throwaway. FFS loves a two-minute pop tune, but with 14 songs collectively clocking in at under half an hour it's a battle for any to linger in the memory. You're as likely to come away from listening to it singing I Only Have Eyes For You or Please Please Me or Cathy's Clown as you are Believe or Dancing To Music I Hate. Make the effort, though, because they're songs that deserve to be sung.
Words: Ali Mason